Tadao Ando, the Master...
La Fabrica
E.F., July 8, 2018
Fabrica for Benetton by Tadao Ando_Francesco Radino/Auditorium_ Antonia Mulas
The task was to create a research centre for communications - visual communications and advertising above all - in which young people from all parts of the world would be able to work together on concrete projects, investigating all forms of artistic expression: cinema, the graphic arts, design, music, publishing (producing the magazine Colors), photography and virtual expression were to interact in a flexible, functional space, not a school but rather a Roman or Renaissance workshop or fabrica.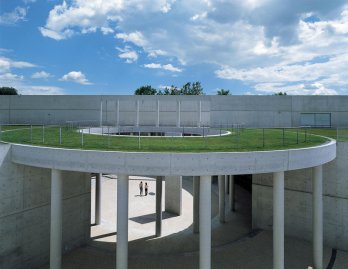 Fabrica for Benetton by Tadao Ando_Francesco Radino/Floating Lawn and Access to Elliptical Square.
Working with stylists is nothing new to Ando - who recently built Teatro Armani in Milan - and he accepted Luciano Benetton's commission because he liked the idea of incorporating modern architecture into the existing space in such a way as to revitalise it without affronting its noble history, but rather, enhancing the lovely countryside that surrounds the villa.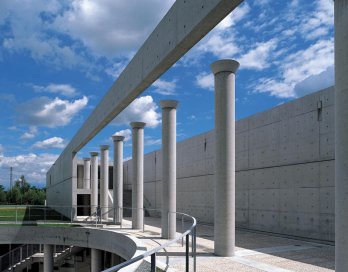 Fabrica for Benetton by Tadao Ando_Francesco Radino/Balcony of the new Wing
The villa's annexes were renovated to house a number of workshops and an auditorium, but the architect made sure that the restoration stayed true to the original building materials and techniques: impressed by the skill and enthusiasm of the workers involved in the project, the architect chose antique tiles and marble finishes, with "Palladian" or wooden floors.
Fabrica for Benetton by Tadao Ando_Francesco Radino/Rotunda from the Interior