Fashioning Felt
Raw Material
Laurie Olivieri + Jennifer Northrop, May 25, 2009
Fashioning Felt/Dress and jacket. Designed by Christine Birkle. Manufactured by Hut Up. Germany, winter 2007–08. Wool, cotton
In furniture design, textiles are typically relegated to use solely as upholstery, but a dense felt can be firm enough to provide support and structure, while maintaining soft surface qualities. Highlights of the works on view in this area include Søren Ulrick Petersen's "Swing Low" cradle, whose cocoon-like shape muffles noise and keeps out drafts; Louise Campbell's origami-like "Bless You" chair; and Pesce's "Feltri" chair, wherein the back and arms of the chair take shape entirely from the thick, sculptural quality of the felt.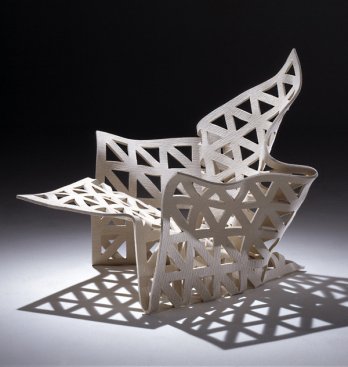 Fashioning Felt/less You chair. Designed and made by Louise Campbell. Denmark, 1999. 10mm technical felt and 750 sheets of gelatin_Erik Brahl
Industrial felt has emerged as a popular construction material in recent years due to its performative qualities of thermal protection, vibration absorption and sound damping, which make it ideal for use as acoustic tiles, wall and floor coverings. The exhibition will spotlight a number of innovative works in this area, including Tord Boontje's "Little Field of Flowers" carpet, in which six different leaf shapes are die-cut from felt and loomed into a woven carpet, and LAMA Concept's "Cell LED" carpet, which features LEDs inserted behind the felt nodes in the carpet to provide a long-lasting, low-energy and visually pleasing light source.
The exhibition also address the issue of sustainability, featuring felts made from partially or fully recycled materials. Felt makes a very short trajectory from raw fiber to finished product, creating fewer opportunities for material waste, and with the burgeoning interest in green design, this most primitive textile is emerging as an exciting "new" material. Among the works on view that are created from recycled materials are Odegard's "Striped Felt" carpet, which is created by embroidering together the waste from various solid-color, cut-edge felt carpets, and Molo's "Felt Rocks," a by-product of a process for hardening high-density industrial felts.
www.cooperhewitt.org