Fashioning Felt
Raw Material
Laurie Olivieri + Jennifer Northrop, May 25, 2009
Fashioning Felt/Necklace. Designed and made by Brigit Daamen. Haarlem, the Netherlands, 2003. Merino wool, coral_Brigit Daamen
Known since at least the Neolithic period (9000 B.C.), felt is believed to be the first man-made cloth. It was the single most significant material for the nomadic tribes of Central Asia and was used to make everything from clothing to the flexible, collapsible dwellings known as yurts. To illustrate the diverse uses of the material, as well as the continuity of the felt-making technique throughout history, the exhibition will feature animal trappings, carpets and shepherds' cloaks.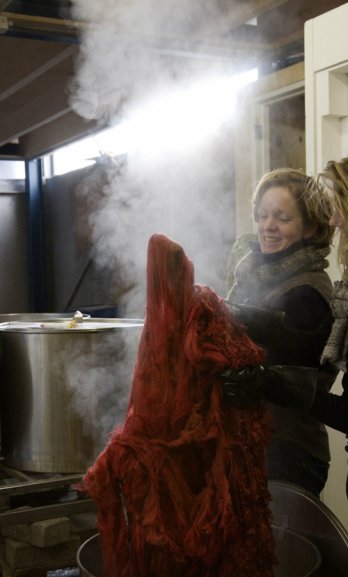 Fashioning Felt/Claudy Jongstra dyeing wool, Spannum, the Netherlands, 2007_Peter Cuypers
As a raw material, felt offers endless possibilities for designers today. The past 15 years have been a period of intensive experimentation and innovation in the craft, and the use of felt has expanded outside of traditional areas to include everything from fashion accessories and costume design to architecture, home furnishings and product design.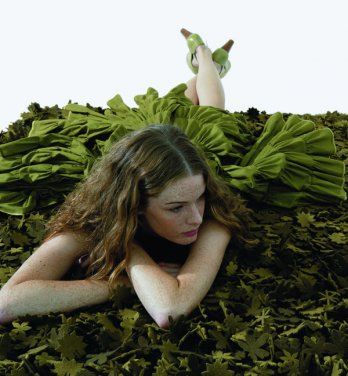 Fashioning Felt/Little Field of Flowers carpet. Designed by Studio Tørd Boontje. Manufactured by Nanimarquina. Spain, 2006. Wool felt_Albert Font
Fashion designers such as Yeohlee Teng and Christine Birkel have embraced felt as a material because it can be manipulated into three-dimensional forms, while still maintaining a soft, textile-like surface. On view in the exhibition will be seamless dresses from artist Andrea Zittel's "A-Z Personal Uniform Series," which are formed directly from fiber in three-dimensions, with all color, shape and ornament being executed in the felt-making process; as well as works by Birkel, who creates forms organically by felting through sheer, lightweight fabrics and controlling shrinkage to create necklines, armholes and waists in a process known as nuno felting, rather than constructing garments using traditional dressmaker techniques such as darts, pleats and gathering.