CARLO VALSECCHI
Lumen
Nathalie Herschdorfer, May 4, 2009
For a period of ten years, Italian photographer Carlo Valsecchi has been creating imagery on a monumental scale. Although these works owe a debt to the influential German school of industrial landscape, Valsecchi has followed his own path, creating fascinating images which hover between the documentary genre and poetic abstraction.
Working with a large-format negative, the photographer has pursued a rigorous approach to his work. He pays great attention to composition and framing; to presentation on a large scale (with clear references to painting); to light, which is always natural; and to colour, which he treats with great subtlety, often limiting his palette to pastel tones bordering on the monochromatic. His images are distinguished by a technique of rigour and precision, faithful to the traditional technology of film. An analytic vision and keen optical sense are Valsecchi's particular gifts; his preciselycalculated exposure times can last up to thirty minutes, allowing him to create very distinctive atmospherics.
Valsecchi has built his approach on establishing optimal working conditions via direct contact with factory sites. His
major series took root in the great industrial plants he has been able to visit in Italy, Argentina, Mexico, and various
European countries. Monumental industrial architecture: cranes, pipes, cables and machines of every description;
high-tech laboratories; and vast tracts of agribusiness – the painterly quality of his work becomes even more apparent with the Argentina landscape series. Here, in Argentina, the photographer discovered that, like steelworks
and other industrial sites, these places, simultaneously archaic and contemporary, had their own suprahuman
monumentality. In the recent series of fruits and vegetables, Valsecchi continues his exploration of the domestication and industrialization of nature in the interests of profitability.
Moving well beyond the strictly documentary approach, Valsecchi's photography breathes new life into the traditional genres of the industrial landscape, the natural landscape, and the still life. The pictures, though often appearing otherworldy, nonetheless depict very real places and objects.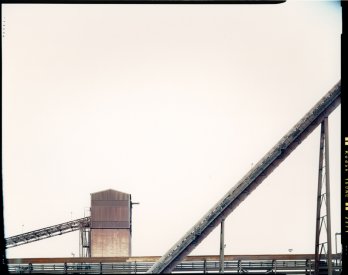 Carlo Valsecchi Lumen/Campana, Buenos Aires, RA, 2005
MATTER, COLOR, LIGHT, AND OTHER ARRANGEMENTS
"Experience is never limited and it is never complete; it is an immense sensibility, a kind of huge spider web, of the
finest silken threads, suspended in the chamber of consciousness and catching every airborne particle in its tissue. It is the very atmosphere of the mind; and when the mind is imaginative—much more when it happens to be that of a man of genius—it takes to itself the faintest hints of life, it converts the very pulses of the air into revelations."
—Henry James, The Art of Fiction, 1884
Ever since its invention, photography has been joining forces with other disciplines, and, in particular, those to do
with the interpretation of nature and the world. Botanists, zoologists, doctors, astronauts, industrialists, and scientists have all turned to the medium as an aid to understanding. Often, then, the photographic image has involved a merging of fields of knowledge such as history, science, art, economics, politics, and technology. For Carlo Valsecchi, the decisive factor was industry, his oeuvre being largely fueled by commissions. He brings new life to the traditional genres of industrial and landscape photography, transcending, in the process, the merely documentary. With their combination of the dramatic and the intrinsically complex, these views of startling, yet very real subjects, demand our undivided attention. a view camera and medium format.
His approach is characterized by meticulousness of composition and framing, systematic use of natural light, large-format images evocative of paintings, and a subtle handling of color often restricted to pastel tones or tending toward the monochromatic. All this adds up to works remarkable for their use of the specific, traditional technology of film photography. Optical know-how is the key here, backed by exposure times that can last as much as thirty minutes. The distinctive atmospherics of his photographs can be traced back to this emphasis on strict control.
When Valsecchi's career got under way in 1996, he was already fascinated by the world of machines and the endless intertwinings of girders and pipes. Once agreement on the commission was reached, he would set about his exploration of the site in question with the sponsor's full support, having been given absolute creative independence. He has built his approach on establishing optimal working conditions via direct contact with the factory settings. The results include major series for the Radici and GF groups and companies like Tenaris and REA (Rifiuti, Energia, Ambiente). Keeping the strictly documentary approach at bay, he systematically exercises his freedom to modify the subject to match his vision of it.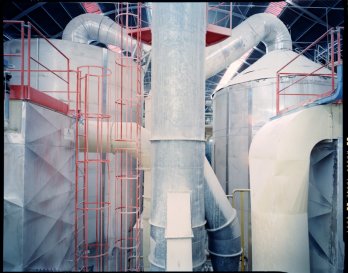 Carlo Valsecchi Lumen/Castellarano, Reggio Emilla, IT, 2000
In a conversation with Javier Barreiro Cavestany, the artist explains the attraction of industrial locations: "They are places that belong to me, and I belong to them.… It's as if the chaos that crowds my mind takes shape and becomes
coherent, harmonious."1 Attentive observation of the production process brings an understanding of the energy level generated. The sites are enormous, and for the photographer, a physical rapport with their machinery is fundamental. It enables him to establish "a very close relationship between the physical and intellectual dimensions."2 Valsecchi's goal is to make visible the dynamic process linking architecture, machinery, and product. For this reason, he always chooses large-scale sites—steelworks, farms, distribution centers—where he can be at the heart of things, where the raw material becomes a finished product.
Immersion in the context is what it is all about for Carlo Valsecchi. In 2003, for example, he followed the construction of an incineration plant in Bergamo for REA, a member of the Radici Group. Valsecchi structured his project in close collaboration with Fausto Radici, owner of the international chemicals company, a major collector of contemporary art, and someone who believes in the synergy of art and industry. The plan was for a new-generation energyrecovery incinerator and Radici wanted a visual account of the incineration process. What Valsecchi came up with after working in the heart of the plant was an extraordinary interpretation in which the tangle of pipes and the complexity of the machinery fill the image space entirely; what is shown by Valsecchi is not a fragment, but a conceived whole. Later, when the photographer was on assignment for Tenaris, the world's leading producer of steel tubing, and visiting its plants in Italy (TenarisDalmine), Argentina (TenarisSiderca), and Mexico (TenarisTamsa), he also turned his attention to their settings. Architecturally speaking, the plants are dazzlingly futuristic and seemingly situated in the most unlikely places. Seen from a distance, their buildings become gloriously abstract objects. Working at night, in some cases, Valsecchi places his emphasis on saturated colors and the lines of his subjects; they take on an explosive velocity.
Despite being commissioned, these different series are works of art in their own right, and their visual complexity and treatment of light and color speak eloquently of their creator's individuality. What Valsecchi shows is an industrial society in which the machine has gained ascendancy over people. In showing us industry from the inside, the images offer us its internal organs; the photographer confronts us with a kind of physical interiority caught in the slightly modified, overexposed tones of a number of series. This is typified by #0148, Dalmine, Bergamo, IT—a mechanical arm raising trash into the air. Subjected to long exposure times, these sites glow positively. The photographer has transformed them into iconic objects.