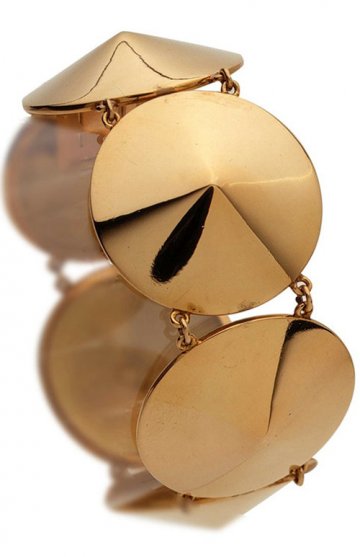 Jean Després
Bijou Art déco et Avant-garde (in french only)
Marie-Laure MOREAU + Isabelle MENDOZA, April 27, 2009
The exhibition is both a celebration of Art Deco jewellery and of the work of the jeweller and precious metalsmith Jean Després (1889-1980). 180 of this major yet little-known artist's works, inspired by Cubism and machinery, are being shown together for the first time, alongside works by the great names of French jewellery in the 1930s: Jean Fouquet, Gérard Sandoz, Raymond Templier (all three members of the Union des Artistes Modernes), and also by architects (Robert Mallet Stevens), interior designers, (Jean Dunand) and silversmiths (Jean Puiforcat), all illustrating the formidable attraction jewellery exercised over the artists of the period.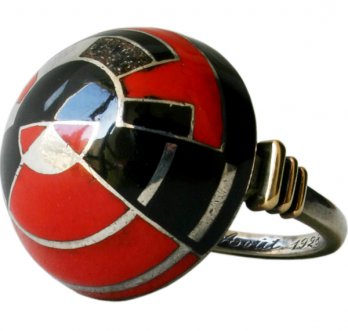 Bijou Art déco et Avant-garde/Gérard Sandoz, bague demi-globe, Paris, 1928_Collection Jean-Pierre Malga, Paris_DR
Durant l'entre-deux-guerres, Paris brille ! En matière de luxe, elle est la capitale du monde occidental. La ville accueille, alors, des manifestations qui marqueront les esprits, l'Exposition internationale des arts décoratifs et industriels modernes en 1925 et l'Exposition Internationale des arts et techniques dans la vie moderne en 1937, deux fêtes grandioses qui jalonnent cette période appelée « Art déco »*. Or, dans la production de cette époque, un courant novateur se dégage. Ainsi, en 1928, Jean Després, orfèvre et bijoutier, se vit refuser la trentaine de pièces qu'il se proposait d'apporter au Salon d'automne, les organisateurs de ce Salon officiel les jugeant trop « modernes ». C'est la modernité, justement, que cette exposition explore. Une modernité qui se traduit par le graphisme des bijoux, les thèmes choisis, les matières employées.
Bijou Art déco et Avant-garde/Cartier, Bracelet boules, Paris, 1930_Collection privée_Jean-Michel Tardy
Cette génération de bijoutiers, en prise avec les courants artistiques de leur temps proche de Fernand Léger ou Sonia Delaunay, s'inspire aussi du Cubisme, du Futurisme ou du Constructivisme russe. Les formes sont épurées, architecturées. Les lignes se font géométriques. L'objet de parure est traité comme une sculpture. Fait nouveau, c'est la vie contemporaine qui anime ces bijoutiers, non le passé. Ils sont stimulés par les progrès de la science. Ils glorifient la mécanique ; des boulons, vis sans fin, vilebrequins deviennent des bijoux. Ils exaltent la vitesse. La ville, sa vitalité, suggère une nouvelle esthétique. Les exploits aéronautiques, les courses automobiles, les compétitions sportives, le jazz, sont autant de sources qui dictent la ligne des joyaux, mais aussi le décor des étuis à cigarettes ou nécessaires de beauté, accessoire indispensable en ces Années folles, à la femme nouvellement émancipée.