MONA HATOUM
Measures of entanglement
David Spalding, September 6, 2009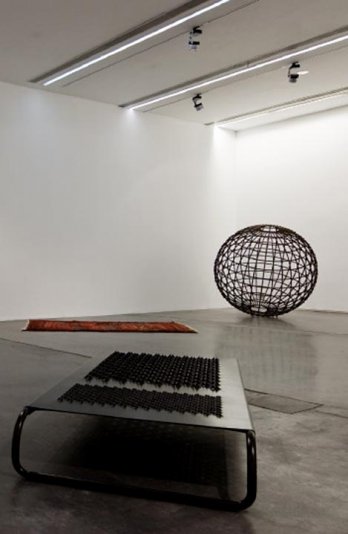 MONA HATOUM_ MEASURES OF ENTANGLEMENT/Vue partielle de l'exposition - Ph.Oak Taylor-Smith_UCCA
Bio_Express
For over twenty-five years, artist Mona Hatoum (born in 1952, Beirut; based in London and Berlin) has built a poetic and challenging artistic oeuvre that takes form in a diverse and often unconventional range of media, including installations, sculpture, video, photography and works on paper.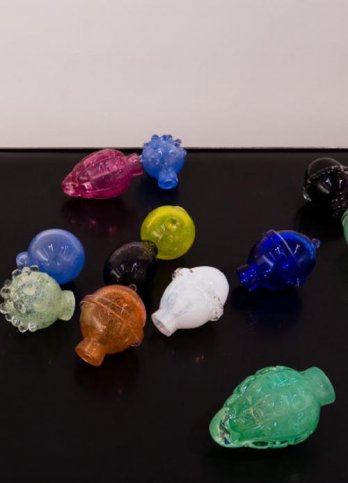 MONA HATOUM_ MEASURES OF ENTANGLEMENT/Nature morte aux grenades, 2007 - Ph.Oak Taylor-Smith_UCCA
Mona Hatoum started her career making visceral performance art in the 1980s that focused with great intensity on the body. Since the beginning of the 1990s, however, her work moved increasingly towards large-scale installations that aimed to engage the viewer in conflicting emotions of desire and revulsion, fear and fascination. In her singular sculptures, Hatoum has transformed familiar, every-day, domestic objects such as chairs, cots and kitchen utensils into things foreign, threatening and dangerous, creating works that employ the stripped down language of minimalism combined with a surrealist sense of humor to draw the viewer in on both an emotive and intellectual level.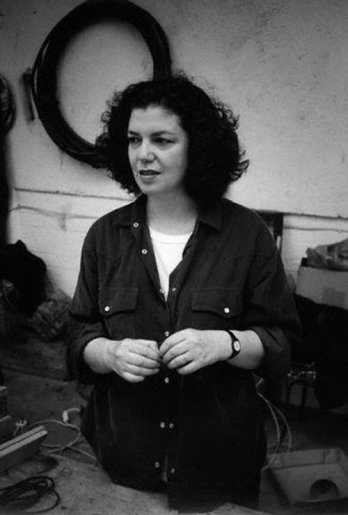 MONA HATOUM
Hatoum's work has been presented at leading museums and art centers worldwide, including solo exhibitions at Centre Pompidou, Paris (1994), Museum of Contemporary Art, Chicago (1997), The New Museum of Contemporary Art, New York (1998), Castello di Rivoli, Turin (1999), Tate Britain, London (2000), Hamburger Kunsthalle, Kunstmuseum Bonn, Magasin 3, Stockholm (2004) and Museum of Contemporary Art, Sydney (2005). She has also been included in numerous group exhibitions, such as The Turner Prize (1995), Venice Biennale (1995 and 2005), Documenta 11 (2002) and Biennale of Sydney (2006). In 2004, Hatoum was awarded the prestigious Sonning Prize for her major contribution to European culture, as well as the Roswitha Haftmann Prize for contemporary art. Hatoum's work will be the subject of a solo exhibition at the Fondazione Querini Stampalia in the context of the next Venice Biennale (2009).
www.ucca.org.cn