Andy Warhol
WARHOL TV
Judith Benhamou-Huet + Julie Martinez, March 23, 2009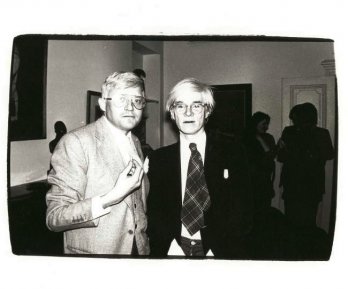 WARHOL TV/Andy Warhol et David Hockney, 1981 - Andy Warhol.
We can see from his diary that television had held a fascination for Warhol since the 1950s, and in 1973 he
turned naturally to this mass medium par excellence as a means of communicating his obsessions. Warhol
saw television as the perfect way to extend Interview: a continuation of the interview process that would
present the wide range of artistic practice that was beginning to emerge in the visual arts, cinema, music
and fashion, while bringing the concept to as wide an audience as possible, and introducing that quality of
instantaneousness which the print version lacked. The exhibition at la maison rouge sets out to build a
portrait of the artist based on his televisual work.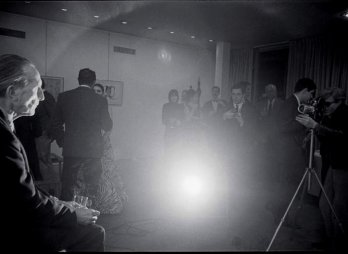 WARHOL TV/Andy Warhol face à Duchamp pour une prise de vue, 1966 - Photographe_Nat Finkelstein.
Judith Benhamou-Huet interviews (extracts of the catalogue exhibition) Vincent Fremont, the producer of all Warhol's TV shows.Early daysVincent Fremont:
Andy didn't want to make television into art. He made a distinction between production, which could be described as a purely artistic activity, and the rest. For his early moves into television, his idea was to explore the soap-opera concept. That's what led to Phoney. He really believed in television. Andy was an American par excellence and television is the American. phenomenon par excellence. He began by founding Interview magazine in 1969, focusing initially on the cinema but later expanding to include fashion. Interview was an exceptionally creative magazine.
WARHOL TV/Andy Warhol's TV [episode 9], 1983. Pictured- Jean-Michel Basquiat, Andy Warhol, 2009
Andy Warhol and his imageV.F.:
Andy never talked about his television image. We were the only ones who could film him. He didn't feel comfortable otherwise. We also made films about people who came to the studio. He wanted to be in control of his image. […] He would use humour to avoid answering a question. Once, while on the set for a show he was doing with Elizabeth Taylor, he completely went to pieces. He completely forgot his lines. He wanted to make sure it never happened again. His mind could go blank in front of a stranger's camera, whereas he was feeling more and more at ease with his own camera.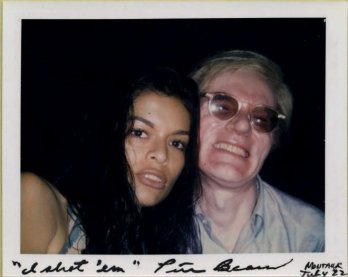 WARHOL TV/Autoportrait avec Bianca Jagger - Andy Warhol