Jean-Luc Blanc
OPERA ROCK!
C.C., March 16, 2009
JEAN-LUC BLANC - OPERA ROCK/_Sans titre,2006_Courtesy Galerie_ArtConcept_Paris
For the occasion, over two hundred of the artistís works have been brought together in the thirteen rooms of the Foy gallery, extended by an epilogue, two stairwells and a lift cage. With the complicity of the curator, Alexis Vaillant, following a dialogue with the artist through which the exhibition took shape, it has been decided to combine the works of Jean-Luc Blanc (drawings and pictures from 1986 to 2009) with those of forty five historic and contemporary artists and with notably numerous artefacts, antiques, jewels, crystals, curios and naturalia, whom Jean-Luc Blanc feels empathy with.
JEAN-LUC BLANC - OPERA ROCK/_Sans titre 1999 Crayons sur papier_Courtesy Galerie Art Concept.
Conceived in the spirit of a playful inquiriy and «flânerie» characteristic of the dandyism of the artist, this collective retrospective highlights the idea that the artistís production can be inhabit on the same level as its mental "backdrop". An idea through which on can presume that what is enacted on stage (the artistís production proper) and what is concocted backstage (the area of influences) are intrinsically linked and deserve more than an illustrated text in a catalogue. The links that follow from the visual and conceptual connections produced are opposite to the obituary and necrological nature of the of regular retrospectives which focus on t the most representative works of the artist. Finally, the exhibition has been designed as a
ROCK OPERA
where the works, the majority of which are on view for the first time in France, interact with those of the artist in a «glam« and spectral space set to music byMr Learn. Visitors thus move through a personal, developed aesthetic pantheon closer to the "potential space" than to some disembodied brainstorming.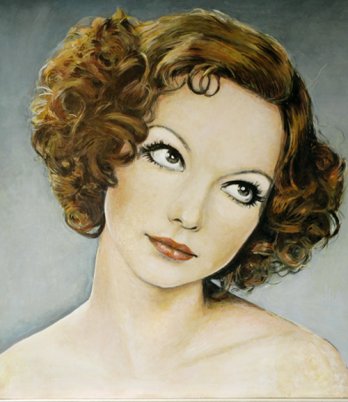 JEAN-LUC BLANC - OPERA ROCK/_Sans titre,2003_collectionparticuliere_geneve
Jean-Luc Blanc Bio_Express
Jean-Luc Blanc was born in nice in 1965. He graduated from the Villa Arson at the end of the 1980ís, took part in the major French exhibitions of the early 1990ís such as "French Kiss 2" and "Il faut construire l'hacienda", squatted a ruined studio at the Hopital Ephémère, easily sold his drawings, wandered the night dressed in black leather accompanied by a wolf with gold spangled eyes, watched several films a day and appeared sometimes on television in a slot for night owls. He adopted Paris as his city in 1990.
www.rosab.net