Frank Gehry
The magician
Loraine Fowlow, " Gehry, Frank." The Canadian Encyclopedia. Historica Foundation, October 23, 2006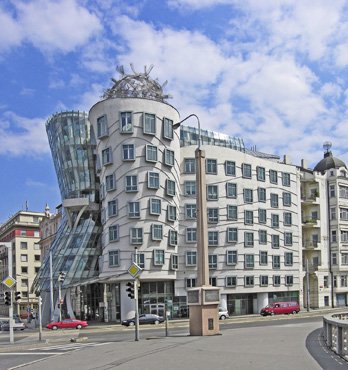 Dancing House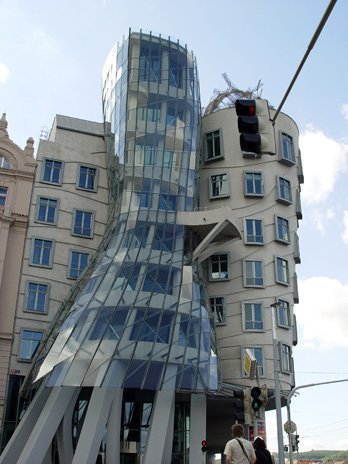 Dancing House
Every project undertaken by Gehry Partners, founded in 1962 and located in Los Angeles, is designed personally and directly by Gehry. In the late 1950s and 1960s - the earliest years of his practice - his work was well planned and handsome, and those who knew it regarded him as a genuine talent. It was not until the 1970s that the box began to break apart, and by the end of that decade he had ventured into absolutely unknown territory with an architectural experiment: his own small, pink Santa Monica bungalow. It became a laboratory in which it was possible to try anything, and he did. Gehry relocated walls, adding new ones and challenging which were new, old, inside, and outside. He utilized everyday materials such as chain link fencing as architectural elements, an innovation that quickly came to be associated directly with his work. Since then, many barriers to architectural self-expression have come down at his bidding; in the years since 1989, computers and advanced software, coupled with the people who operate them, have given him the long-hoped-for freedom to create ever more inventive ways to enclose space.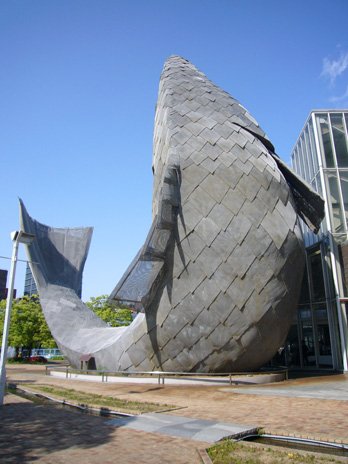 Fish Dance in Kobe, Hyogo, Japan
The design process Gehry displayed in the renovation of his own house has continued to this day: it is a process of seeing anew, of seeing what you have been looking at as ordinary as possessing the potential for the extraordinary. What has become known as Gehry's signature style couples his interest in materiality with expressive form. These buildings are usually composed of discrete volumes, shaped with freely flowing curvilinear roofs. Metal panels are often used as cladding, either stainless steel or titanium. The result is a collection of buildings bearing no resemblance to a historical understanding of architecture; these are structures that appear to defy gravity, as well as the human ability to shape structures.