Shilpa Gupta & Mahzarin Banaji
While I Sleep
Valérie Abrial, March 2, 2009
While I Sleep by Shilpa Gupta & Mahzarin Banaji/Marc Domage
The power prejudice
Echoing Shilpa Gupta's artistic proposal, the work done by the neuropsychiatrist Mahzarin Banaji explores the subconscious thoughts of individuals. What can be said of our prejudices and of social and biological factors that influence our modes of thought? Placed against a backdrop of terrorism, such as in India at the current time, does being Muslim or Hindu have an impact on the mechanisms of fear? Can we consider fear as an expression of involuntary perceptions of our biological system?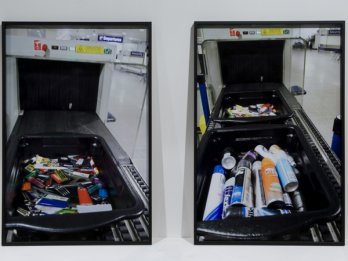 While I Sleep by Shilpa Gupta & Mahzarin Banaji/Marc Domage
Mahzarin Banaji who has been studying implicit beliefs and behaviors for the past two decades has, in collaboration with two other psychology professors (Brian Nosek - University of Virginia; Anthony Greenwald - University of Washington) developed the Implicit Association Test. The IAT is a tool to learn more about feelings and thoughts that cannot be consciously controlled. In reality, each individual has biases impacting his or her way of looking at the world. But does this necessarily mean that we are not masters of our own thoughts? By fusing their fields of interest, Shilpa Gupta and Mahzarin Banaji explore a series of questions about the subconscious and reflexes that characterizes us. Is our reaction to an image associated with the word inducing fear actually grounded in reality or in prejudices emerging from our ge¬netic origins?
While I Sleep by Shilpa Gupta & Mahzarin Banaji/Marc Domage
The Artscience Experiment
The artist and the scientist have created special Implicit Association Tests for people coming to Le Laboratoire. The genesis of this Artscience experiment was developed in close collaboration with the Cloud Foundation teams and young people in Boston (see page 3). Specifically, IATs were run on twins (homozygotes and heterozygotes), brothers and sisters, friends, and individuals with no share ge¬netic links. By studying the reactions of these "test subjects" to words and images chosen for the feeling of fear that they generate, Shilpa Gupta and Mahzarin Banaji were able to observe the prejudices respon¬sible for the feelings of fear generated in the subjects.
The artist used data gleaned from this participative experiment to create the sound and visual installations she presents in Le Laboratoire.