Poul Kjærholm
The Furniture Architect
Susanne Hartz, September 25, 2006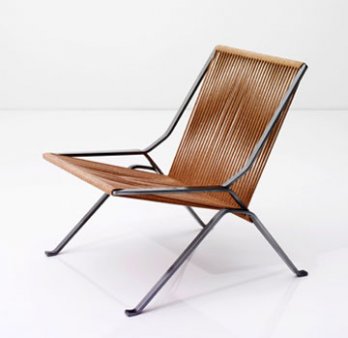 PK 25, 1951 - Stålstol med flagline
Poul Kjærholm was born in 1929. He studied traditional woodwork from the age of 15 as a cabinetmaker's apprentice. Finishing his apprenticeship in 1948, he enrolled at the DanishSchool of Arts and Crafts, where he studied under designer Hans J. Wegner.
Kjærholm's 1952 graduation piece was the PK 25 lounge chair – his first masterpiece using steel in an organic approach to form which formed the basis for work in 1950s and 1960s. Kjærholm joined forces with merchant E. Kold Christensen in 1955 and established the firm that was to produce and market Kjærholm's new designs. For the next 25 years Kjærholm produced a succession of pieces that combined modern materials with the highest standards of craftsmanship, and a profoundly personal approach to detail and surface. Many of these pieces, including the PK 22 lounge chair, the PK 9 dining room chair and the PK 54 dining table are still in production.
PK 9, Spisestol, 1960
Poul Kjaerholm - Tarnby Radhus, 1958
The exhibition at Louisiana
"Poul Kjærholm - The Furniture Architect" at Louisiana is a unique opportunity to experience the full scope of the designer's oeuvre and to explore the concepts and ideas behind Kjærholm's beautiful, seductive creativity. Presented in tableaux which highlight his most important and enduring designs, the exhibition offers a panoramic overview of Kjærholm's work by exploring his sources of inspiration and work process.