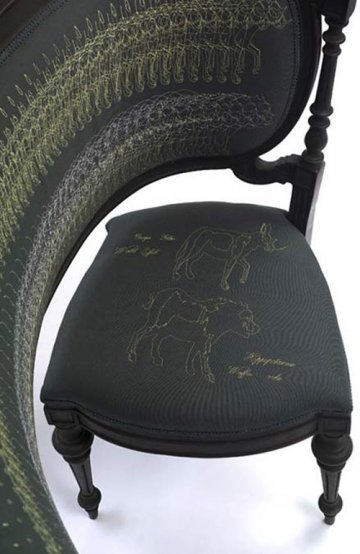 Sebastian Brajkovic
The Lathe Chairs
Joanna Needham, February 9, 2009
Carpenters Workshop Gallery
is pleased to present Sebastian Brajkovic's highly anticipated new body of work, entitled
Lathe
. Brajkovic's work strikes a fascinating balance between the old and the new. His work is both highly contemporary, using computer technology to form composition, yet engrained in history with its exquisite craftsmanship and traditional techniques.
His artistic process starts by deconstructing historical pieces of furniture, in particular seventeenth-century chairs, then through a combination of wood carving, bronze casting and hand embroidering, he reconstructs an entirely new vision. His functional artworks are both a tribute to the past and a prelude to the future. In the Lathe works, Brajkovic plays with his 'sitters' subconscious comfort of the familiar, by taking traditional forms and techniques and subverting them with contemporary attitude.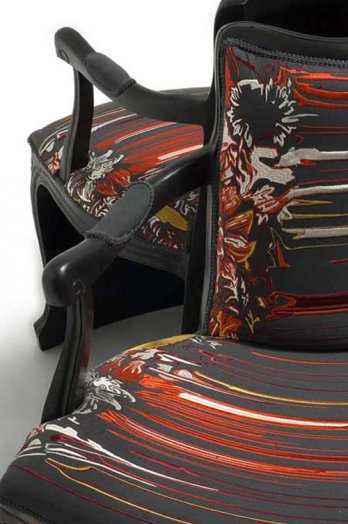 Sebastian Brajkovic_Lathe Chairs
They are called 'Lathe' because of the apparent rotating effect of the design. In fact the word Lathe comes from the Latin word used to convey the idea of milk being stirred. My very first thought with making this design was actually a practical one. I wanted to create more space on a singular chair by "extruding" the seat's surface area. This extruding idea came from a Photoshop function where you can pick a row of pixels and extend them as long as you want. This modern computer method aided me to devise new ways of sketching as a contradictory partner in my design process. In this paradoxical sense, using antique forms was the next logical step.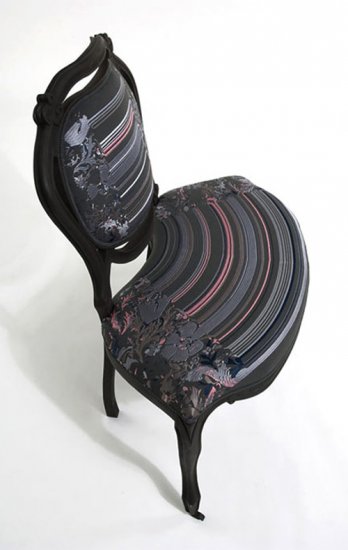 Sebastian Brajkovic_Lathe Chairs
Brajkovic uses form and composition like an artist; the spinning composition he uses is comparable to the similarly computer-distortion inspired Vortex Paintings by contemporary artist David Salle, but the form is more likable to seventeenth-century furniture makers, bronze foundry artisans and traditional embroiderers. Thus is the parody of Brajkovic's work, it tells a story of contemporary society's need to reference the past, but present it in an idiosyncratically contemporary way. He is drawn to the aesthetics of the past as a way of retaining our memories, but reveres the new, with its unknown and curious future.
In Lathe I Brajkovic twists the familiar seventeenth-century dining chair and conjures up a playful alter reality, where objects themselves can be physically stretched and pulled as if in digital programme. The Lathe I has been pierced by a central axis running through the profile of the chair back, and as though being turned on a giant lathe, the seat and back extend around offering up a new, more spacious seating arrangement. With the seat extruded, the arms of the chair look like they might meet in reverse, the whole piece existing in the negative space of a traditional chair.