Frank Gehry + LVMH
same vision
Cécile Brisson, October 13, 2006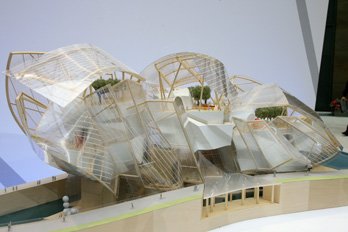 Bernard Arnault, the CEO of LVMH, met Frank Gehry in September, 2001 and spoke to him (her) about his project. "We helped for 15 years more than 25 major exhibitions (exposures)" but the patronage has "a little bit short-lived side", underlines the boss who thus wished to create a permanent place.
The Louis Vuitton foundation for the Creation "aims at favoring the cultural and artistic brilliance of France in the world", noted Bernard Arnault. "It will not be a nth foundation of contemporary art", he assured (insured), by explaining will "to put in echo the art with his roots". Suzanne Pagé, the ancient (former) police superintendent (commissioner) of the Museum of modern art of the City of Paris, will assure(insure) the artistic direction(management).
The permanent collection will count works of Pablo Picasso, Jean Dubuffet, Mark Rothko, Damien Hirst, among others. And "there will be a temporary exhibition (exposure) or two a year", the boss of LVMH promised. Frank Gehry was "the ideal partner" to set up the Louis Vuitton foundation for the Creation, noted Bernard Arnault, by remembering to have made visit the Zoological garden to the architect. "At once, I felt (smelt) that he (it) had understood (included) the magic of this site", he(it) remembers. "That reminded me at once Proust", Frank Gehry confided (entrusted). "The idea to build a solid, strong and formal object seemed inappropriate in this garden", added the architect who thus worked on the thoughtlessness and the transparency. The "glass cloud" again has to materialize.
The Pinault foundation, which had to settle down on the island Séguin to Boulogne-Billancourt, had, her (it), evaporated. In May, 2005, the boss of PPR (Pinault Printemps Redoute) had announced that he abandoned his project of Boulogne-Billancourt, thrown(launched) five years earlier. François Pinault had called of the "uncertainties, the lengthes and the gravities" of the administration and upon local governments. He (it) presents henceforth a part (party) of his (its) collection in the Palace Grassi, which he (it) acquired in Venice. Interrogated about the Italian exile of his competitor, Bernard Arnault defended (forbade) the peculiarity of his Foundation Louis Vuitton for the Creation: "some comparison with the other initiatives would not be relevant".