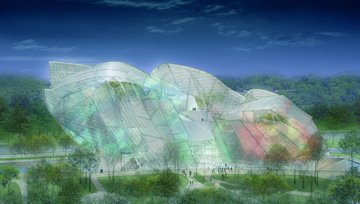 Frank Gehry + LVMH
same vision
Cécile Brisson, October 13, 2006
"It is more the cloud than a building (ship)", was enthused Bernard Arnault by presenting on Monday to the press the model of his future Foundation Louis Vuitton for the Creation, drawn by the architect Frank Gehry. The glass vessel of 4.200m
2
, everything in transparency, could be set up between 2007 and 2010 for a hundred million euro cost on the site of the former (ancient) tenpin bowling of the Zoological garden, in Paris. At the moment, this project has until the consistency of the cloud. The ground indeed belongs to the municipality and the construction site must be approved by the advice (council) of Paris.
The mayor intends to present considerations by the end of the year and he hopes to obtain a consensus around the project. "We work to transform a dream into happiness", assured (insured) Bertrand Delanoë during the press conference the Parisian seat of LVMH (Louis Vuitton - Moët Hennessy), avenue Montaigne. According to him, Frank Gehry's work is "a present of the Foundation Louis Vuitton in Paris and in the art generally". "I have the intuition (...) That it is your masterpiece", threw (launched) the mayor to the architect. The author of the museum Guggenheim of Bilbao does not advance (move) so much.
"It is as to speak about his(her) children", Frank Gehry confides(entrusts), by adding that the time will say which of its works will have been most made the a success. The North American architect however seems to have already a lot of disorder (affection) for his future building (ship), which he describes as a "glass cloud", in French in the text. Frank Gehry reminded that he had of "numerous friends artists", that he w as fashionably interested and that Paris was its "favorite city". To see confiding (entrusting) by a giant of the luxury her (it) tries to draw a case for the art, in the capital, thus is to reveal a"heavenly command (order)".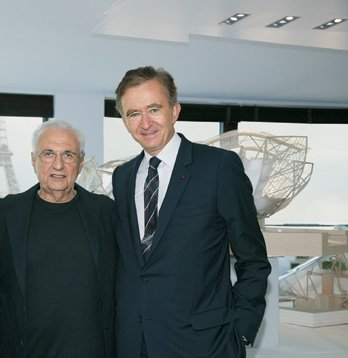 Frank Gehry and Bernard Arnaud - ©Thomas Dupaigne/2006