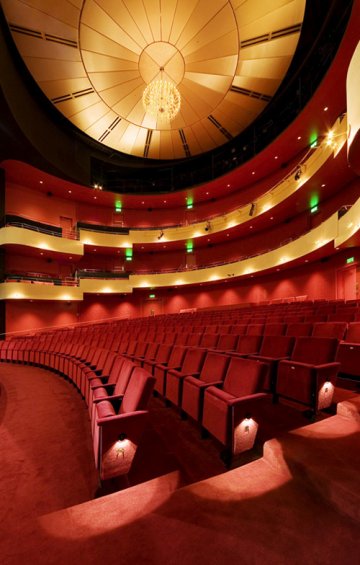 Dolbeau-Mistassini Theatre
Theatrical setup of contemporary architecture
Nathalie Roy, Les points saisis + Paul Laurendeau, January 19, 2009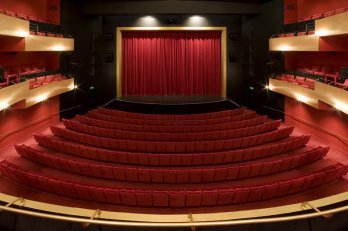 Paul Laurendeau_Jodoin Lamarre Pratte_architectes en consortium_Marc Gibert_adecom.ca
From October 10 to 13, the city of Dolbeau-Mistassini, a municipality located at the northern section of the Saguenay - Lac-Saint-Jean region in Quebec, Canada, inaugurated their new municipal theatre, the result of 30 years' effort from the citizens to provide their city with a cultural institution and a theatre that has been long awaited. "Practically all season tickets were sold during September, before the opening", informs Audrey Jobin, general director of the entertainment committee of Dolbeau-Mistassini, "
We presently can't say what impact of the theatre will be beyond the region. But the response is incredible. People that have visited it literally fought for tickets... Already 13 shows out of 23 are sold out, all categories considered. This has never been seen before!"
Winner of the first prize in an architectural competition organized by the municipality in 2005, where 30 proposals were submitted by Quebec architects, this new cultural center has been realized by the consortium formed by architect Paul Laurendeau and architects Jodoin Lamarre Pratte and Associates…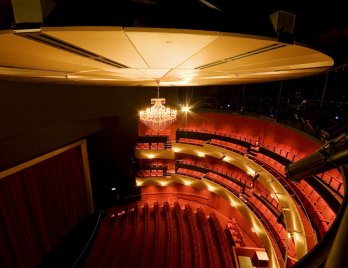 Paul Laurendeau_Jodoin Lamarre Pratte_architectes en consortium_Marc Gibert_adecom.ca
The building serves a double function: an auditorium "à l'italienne" with a capacity of 491 seats, and an oversized foyer to accommodate special events and exhibitions with a capacity of 400 places. Furthermore, the committee is appropriately located, its administrative offices behind the front glass facade, above the main entrance.
On the eastern side, a small court between the artist's dressing rooms, the foyer and the existing adjacent red brick building, has been designed, bringing in greenery and unifying contrasts of old and new, horizontal and vertical, and light and dark via the private, luminous zone (artist's green room) and the dark monumental public zone (foyer) respectively.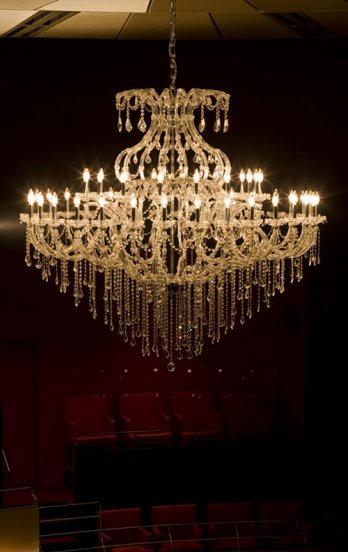 Paul Laurendeau_Jodoin Lamarre Pratte_architectes en consortium_Marc Gibert_adecom.ca
Beyond formality and geometric simplicity, with fluid lines removed from artifice, the openings are symmetrical and the materials sober, hence new contrasts of glass and steel - elements characteristic of Paul Laurendeau's signature - insisting on the primacy of form:
"It is an aspect too often neglected, it is never talked about seriously enough. The other disciplines must subordinate to architecture, and not the other way around. Initially, I did not ask myself [regarding the ceiling of the auditorium] if a horizontal surface would work from an acoustic point of view! We have created a powerful volume...acoustic parameters were integrated afterwards, and to great satisfaction."
To attend a live performance is already an incredible aural and sensory experience. To enter the Dolbeau-Mistassini theatre is to discover another dimension to this experience, where mysteries await...