Lee Friedlander
-
Michel Frizot, October 6, 2006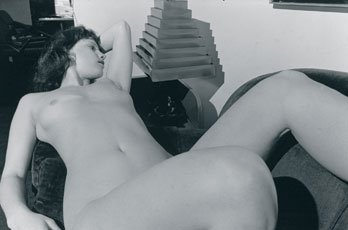 Lee Friedlander - Nude, 1982
The 1970s and 1980s
The Pop-inspired wit, offhand wisecracks, and formal innovations that mark Friedlander's first maturity would never disappear from his work. Beginning in the early 1970s, however, his sensibility and style broadened considerably, yielding a fluid stream of observation, ever more graceful and sensuous. One agent of this remarkable sea change was the evolution of Friedlander's craft. At first hard-nosed and urban, his pictures became richly descriptive, alert to subtle variations of texture and light. Another factor was his growing affection for tradition, notably for the work of Eugène Atget. Atget's keen eye for the vernacular had inspired Evans; now Atget's more lyrical vision helped to open new doors for Friedlander.
In 1976, the unfolding of Friedlander's work gave birth to
The American Monument,
an ambitious book selected from more than 1,000 photographs that delight in the variety of the country's public monuments, from the noble to the ridiculous. The nimbleness of Friedlander's style matched the variety of his prey, spawning an outpouring of pictures that are by turns blunt and complex, matter-of-fact, funny, ironic, affectionate, and grave. Together they capture America as richly as Atget had evoked the identity of France half a century earlier. (…)
The exhibition tracks the growth of his work in groups both small and large. Some measure the evolution of perennial themes; others are devoted to personal projects-flowers and trees, Japan at cherry-blossom time, nudes-or to the commissions that began to come Friedlander's way in the late 1970s.
Factory Valleys: Ohio and Pennsylvania
(1982), an exhibition and book commissioned by the Akron Art Institute, is a collection of views of the industrial Midwest complimented by eloquent pictures of people at work - a new and fruitful theme.
When it comes to people, Friedlander is essentially an observer of individuals… His studies of workers in the factories of Ohio and Pennsylvania are admiring, even intimate, but they don't pretend to be portraits. Instead, they are tributes to the skill and steady concentration of people "making things we all use", as Friedlander later put it. Over the next two decades, five further commissions would enable him to extend the theme further, from office workers at their computers to telemarketers on the phone.