Lee Friedlander
-
Michel Frizot, October 6, 2006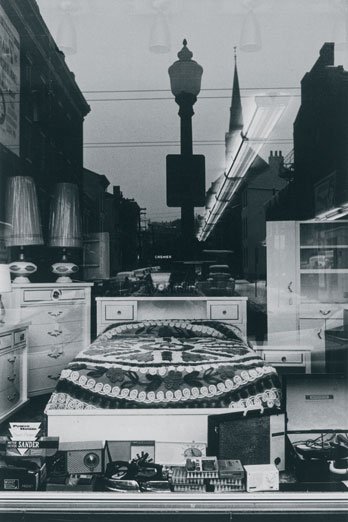 Lee Friedlander - Cincinnati, Ohio, 1963
The 1960s
Friedlander's personal work burst into maturity in 1962. Like Evans and Frank, he was probing what he called "the American social landscape" — shop fronts, ads, TVs, cars — the whole panoply of the city street. What was new about Friedlander's work was its playfulness — his talent for turning familiar photographic errors into beguiling puns and puzzles. In his pictures a pole often gets in the way; the frame cuts off something important; a plate-glass window confuses inside and outside; the photographer's own shadow or reflection intrudes. Friedlander's eager pursuit of these complications recaptured the creative verve of photographic modernism.
For another photographer, those pesky shadows and reflections might have been a problem, but Friedlander treated them as a gift, coaxing his surrogate self into a chameleon protagonist. Like his friend Garry Winogrand, Friedlander reveled in his medium's duplicity, simultaneously embracing the ungovernable energy of the city street and gleefully insisting on photography's power to transform what it describes.
In 1967, the recent work of Friedlander, Winogrand, and Diane Arbus was presented at MoMA in the exhibition New Documents. Curator John Szarkowski recognized the three as leaders of a new generation, who had outgrown the earnest humanism of mainstream photography in the heyday of the magazines. "Their aim has not been to reform life, but to know it," he wrote.