Norbert Wagenbrett
Die Neue Sachlichkeit
G.A.B., July 4, 2011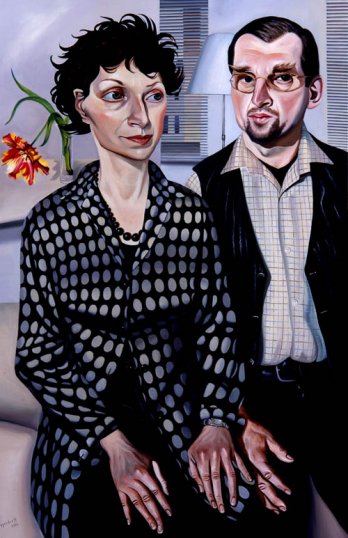 Norbert Wagenbrett/Paar mit Tulpe
Representing, specimen after specimen, the vast spectrum of the social field, the painter looks at his subjects with a critical glance, but one devoid of any cynicism. Through the magic of the pictorial medium, the subjects become characters in the representation of their own lives, thereby creating an art that approaches truth. Having undergone the rupture of the East-Germany history, his characters each react differently to the new political context of their country. Wagenbrett depicts as much their existential fragility, as the uncertainty of their socioeconomic conditions, thereby implying the universal nature of these conditions.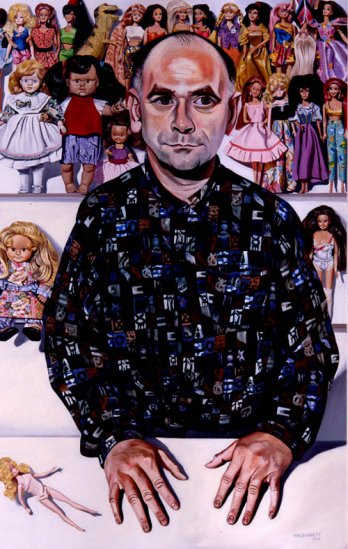 Norbert Wagenbrett/Puppenverkaufer
It is from there that the portrait genre, generally considered so narrow, takes all its meaning: by the use of symbols emphasizing the identical elements of the individual (dress, hairstyle, attitudes, etc.), Wagenbrett succeeds in creating types that are, in fact, social archetypes. From these portraits of isolated individuals or groups, there emerges an endearing impression, but also a consciousness of their multiple and daily difficulties. By his skilled analysis of human relationships and a deep social sensibility, Wagenbrett does not tell the torments of one generation in particular. Following the example of a sensitive reviewer, he proposes rather a complex vision of a moment of our history. In its way, Wagenbrett holds up "another mirror" that is radically different from the images conveyed by the media.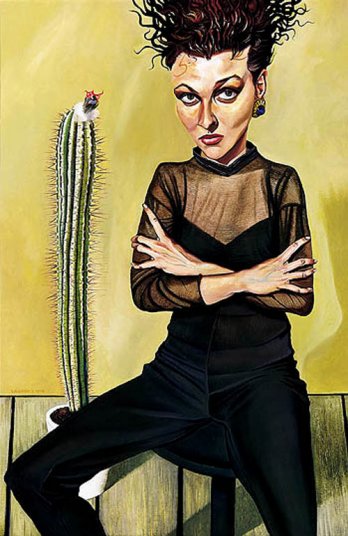 Norbert Wagenbrett/Bildnis_DD,1994,