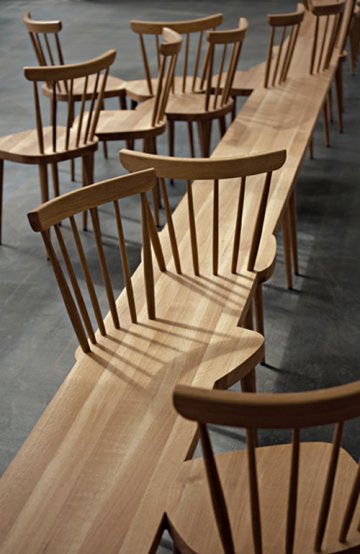 Cities: "living space"
Street furniture
Brice Tual, August 6, 2018
Special Feature

Street furniture is the term for all the different elements that make up public amenities including benches and chairs, drinking fountains, public toilets, telephone boxes, bus shelters, billboards, street lighting, and children's play areas. They all form part of the services offered to city-dwellers to make their lives more comfortable.
It must be carefully planned at the design stage and carefully managed on a day-to-day basis. It contributes to a town's identity and plays a role in town planning. Councils sometimes even get into "arms races" to show which of them offers its inhabitants the most harmonious and practical living space. Each new addition should be meticulously studied so as to ensure that amenities are user-friendly and that they meet requirements in terms of safety and accessibility.
In this context, designers, architects and manufacturers design urban amenities to aid city-dwellers in their everyday lives, while also encouraging them to get to know each other, to get information and to look at architectural space in a different way.

As it is subjected to all kinds of wear and tear, street furniture has to be built to last, robust and secure. It has to have finishes and coatings suited to various different constraints including anti-sticker, anti-graffiti and anti-bacterial coatings.
As in most other sectors, these amenities now have to take account of environmental concerns. Eco-design is about considering a product's entire lifecycle, from the extraction of the raw materials to the end of its life.
It should also be stated that the production, installation and maintenance of street furniture all have to comply with regulations designed to guarantee their quality and safety to the people who use them. Some areas for which there are no standards yet, such as ergonomics, practicality and their suitability to their surroundings, would seem ideal areas for companies to develop innovative ideas about how street furniture could evolve in the future.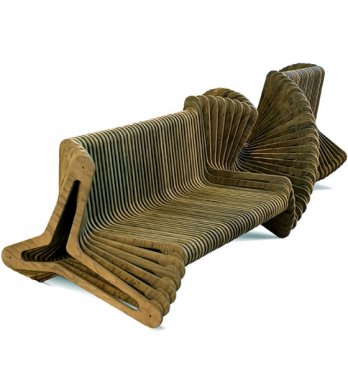 Mobilier Urbain/ création Alexandre Moronnoz
Local councils are gradually realising that providing street furniture that is well-integrated, well thought-out and long-lasting contributes to positive urban management, improves their image and makes everyday life more pleasant for their citizens. This is good news for architects, designers and manufacturers who realise that the prospects are good in this area that has already been tried out by a small number of specialised companies.
23rd September 2008, evening: Nathalie Kosciusko-Morizet, the Secretary of State for the Environment undertakes a much-publicised outing to the Paris Observatory in Meudon. This is not a particularly fun event, however, because her aim is to criticise light pollution – excess lighting in other words – which is one of the chapters in the Grenelle multi-stakeholder agreements on environmental protection made in October 2007. The light halos over European towns grow by about 5% per year and they now obscure 90% of the stars in the skies over our cities (*). Astronomers warn that night is disappearing and that the diminishing natural difference between day and night is disturbing plants and animals. The migration, reproductive and hunting habits, and pollination of numerous species are being affected by this phenomenon. The main culprit is public lighting, which accounts for 48% of councils' energy costs and produces 4% of greenhouse gas emissions in France (**).
This is food for thought for all those people from the outer suburbs who head for the countryside to make the most of the clean air and silence, to feel close to nature, to live their lives to the rhythm of the seasons and enjoy "real" human contact again. The idealised view of the countryside they construct from these values can however give way to disappointment, because society is also changing in rural areas.
Nevertheless, the fact is that 80% of humankind live – either by necessity or by choice - in cities.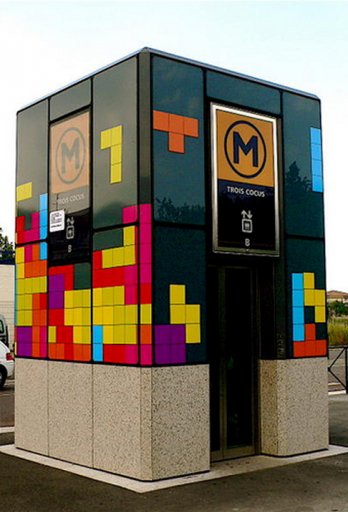 Street furniture/Metro_Toulouse
In France, 90% of the population is concentrated on 20% of the land. Cities embody all of a civilisation's contradictions: faith in progress and modernity on the one hand, a melting pot of society's dilemmas and crises on the other. The civilisation of the machine age has produced cities that are almost inhuman. The living environment is often unbearable: unhealthy air, noise pollution, run-down areas of town, chronic law and order problems, the hectic rhythm of work and home life, bulimic consumer behaviour stoked by publicity, the overriding importance of appearance, the lure of pleasure, anonymity and loneliness… Although the anonymity of large cities protects the individual, it also considerably reduces the value of his citizenship. The situation in the new towns built on the edge of Paris seems to suggest that, although urban organisation appears to offer the people who live here vital autonomy, it cannot produce the same feeling of belonging that exists in generally smaller, historic towns. The more spread-out a town is, the less coherent it is and the less homogeneous are its inhabitants and its organisation.
This leads to the emergence of ghettos which bring with them communitarian conflict, racism and intolerance.
Yet, as Olivier Chadoin, a sociologist and lecturer at the Higher National School of Architecture at Paris-Villette reminds us, "cities are where individuals meet and exchange, and where urban life is organised." Street furniture helps to create such a bond, just as overall town planning is an element in a city's prestige. Monarchs and councillors have understood this for centuries. In 1258, Etienne Boileau, the provost of Paris, orders the first system of public lighting. In 1605, the first wooden public benches are installed on the Place Royale (now the Place des Vosges). In 1729, 5,772 lanterns are positioned around Paris. In 1853, Baron Georges Eugène Haussmann becomes prefect of Paris. In 1854, the first tramline comes into operation between Sèvres and Vincennes. Between 1854 and 1890, more than 80,000 trees are planted along the streets of the city and 24 squares are created. In 1857, the first lit-up newspaper stands are built. In 1865, Charles Garnier's lyre-shaped candelabras light up the Opera. In 1871, Richard Wallace donates 50 bronze-plated iron water fountains designed by Lebourg. Between 1900 and 1912, Guimard's decorative ironwork marks the entrances to lines 1 to 7 of the metro (***). These few selected examples from the rich list of Parisian amenities that have been installed over the centuries shows gives an idea of the history of this phenomenon and the relevance of certain decisions that are not only still with us but are part of the very fabric of the capital's identity.