NRC Scientists Help Solve the Mysteries behind the Mona Lisa
-
CNRC/NRC, September 28, 2006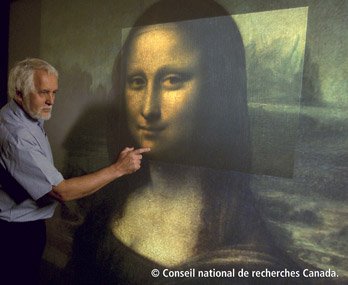 During the past 25 years the NRC-IIT proprietary 3D colour laser technology has developed from an idea on paper - by research scientist Marc Rioux - to a tool capable of resolving an object, in colour, at less than the width of a human hair. The technology's development has been driven by a unique meeting of art and science. For two decades the 3D scanner has been used and improved to document major artefacts and works of art in Canadian and international museums.
"Our work with the Mona Lisa has driven the development of the technology further than any other art work that we've ever done," says NRC-IIT research scientist François Blais, who leads the development of the 3D technology.
Before leaving for Paris, the NRC-IIT team performed detailed simulations of the scanning process. Traditionally, the Mona Lisa, painted between 1503 and 1506, is only removed from her environment-controlled chamber for a check-up once a year, and only for a single night. The NRC-IIT researchers had two precious nights, between October 18 and 20 2004, to perform the back, front and side 3D scans. Each night they worked from the Louvre's closing until dusk and the paintings return to its place of prestige for the next day's visitors.