Alexis Aliocha Peskine
Twenty things you should know about Alexis Peskine...
Zanoah Bia, December 6, 2018
Alexis Peskine/Alexis-Peskine_Lessoned, 2008
E.D.: Can you describe an evolution in your work from your first projects to the present day?A.P.:
Definitely technique wise. I use more sustainable materials. I replaced latex paint by lacquer and sign paint; I oil and gold leaf my nails to prevent them from rusting. I use lighter and tenderer wood. I always had the will to make my works clean opaque and graphic and it has been a journey to find the right longest lasting materials and products to realize the images I have in my mind. Concept wise, I try to be more universal and I try to be thought provoking rather than provocative or insulting.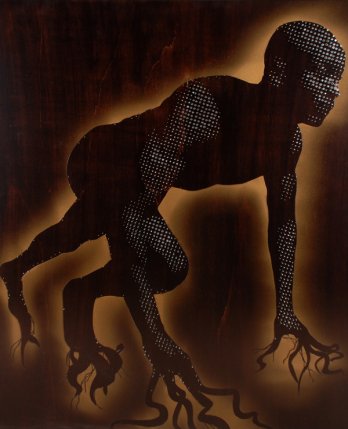 Alexis Peskine/Starting Blocked
E.D.: What couldn't you live without?A.P.:
My brain.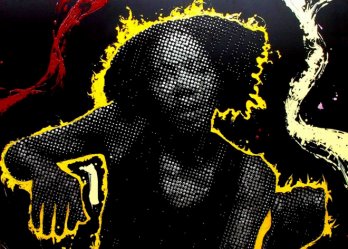 Alexis Peskine/alexis-peskine_Maezinha Revisited, 2008.
E.D.; Finally, which 21th-century architects/designers/artists would you invite to a dream dinner?A.P.:
Stevie Wonder, Jay Z, Takashi Murakami, David Adjayé, Jeff Koons, Michel Gondry, Kara Walker, Damien Hirst, Dave Chapelle, Ellen Gallagher, David LaChapelle, my brothers Anthony Peskine and Gystère, Tedra Wilson, Hank Willis Thomas, Jordan Eagles, Mickalene Thomas and of course a couple of other interesting friends.
Alexis Peskine/Alexis Peskine_Corna Banana.
Bio_Express
Alexis Aliocha Peskine was born in Paris, France, on September 29, 1979. He is a 2004 Fulbright Scholar who holds a B.F.A. from Howard University an M.A. and M.F.A. from the Maryland Institute College of Art (MICA). Peskine's use of graphic and commercial images in fine art is informed by his early start in graphic design. At age 15, he was the youngest student to enter the Apprentice Center of Formation for the Graphic Art in Paris; he subsequently worked for Crayures as an industrial designer for clients such as Roland Garros, Malterre and Fly. He also served a stint as Creative Director for Burrell Communications in Chicago. Peskine bridges the gap between graphic design and fine art by using the same design aesthetic to appeal to the masses, as his work often touches on the ideology of consumerism and mass consumption.
As a junior at Howard University in 2002, Peskine was the first winner of the Verizon HBCU Student Art Competition; the following year, he won second place in the same competition. His work has attracted the attention of Chrissie Iles of the Whitney Museum and Yukie Kamaya of the New Museum of Contemporary Art in New York. Burrell Communications' Chairman Emeritus Tom Burrell and musicians Donald Byrd, Talib Kweli and Common all own Peskine's work.
Drawing inspiration from his paternal grandfather who survived a German concentration camp, to his maternal grandfather who lived in the favelas of Salvador, Bahia, to the loving marriage of his own Franco-Russian father and Afro-Brazilian mother, Peskine challenges his audience with provocative, cynical and sometimes earnest takes on serious subjects. Much of his work also celebrates family, friends and the beauty and humor of solitary inanimate objects.
www.alexispeskine.com