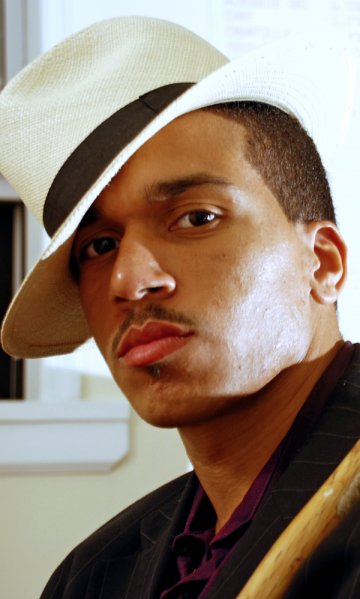 Alexis Aliocha Peskine
Twenty things you should know about Alexis Peskine...
Zanoah Bia, December 6, 2018
Alexis Peskine was born (1979) in Paris, France. He was a Fulbright Scholar in 2004 and received his Bachelor of Fine Arts at Howard University in Washington DC, and his Master of Digital Arts and Master of Fine Arts at the Maryland Institute College of Art (MICA) in Baltimore. The use of graphics and business ideas in the art of Peskine comes from his first training related to graphic arts.

The Interview

EgoDesign: Who are you? How would you describe yourself?
Alexis Peskine:
I am an artist an observer a thinker an eternal learner a sensitive soul a traveler a music lover. I try to understand people and situations and I am hungry for culture.

E.D.: Tell us more about your works?A.P.:
I like to include popular icons and pervert them. My reasoning behind the inclusion of elements that people are familiar with is to establish a connection between the work and the viewer. My work has a graphic quality mixed with fine art sensibility. I like the graphic appeal because of its boldness and its ability to grab most people's attention. I feel that if the images I make can retain someone's eye, then half of the purpose of my work is already fullfiled. That's why in my work, technique and craft are important. They can alone retain the eye if they are impressive. I use all kind of materials from nails to soap, but my signature works are my Nail Pieces. I use photoshop to translate an image (that I generally stage and shoot) into halftone pattern dots and then I recreate this image painting it on wood and using nails with different size of heads to replace the dots.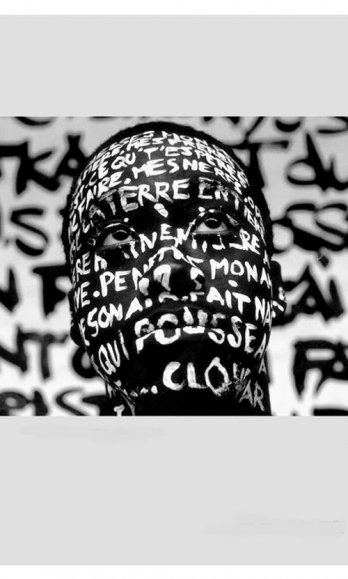 Alexis Peskine_Word?, 2002
E.D.: Is there a philosophy behind your work?A.P.:
Making refined popular work. Bridging the popular and the elitist. I make extremely simple graphic images with extremely complicated and elaborated techniques and process to talk about topics such as identity with a drop of cynicism.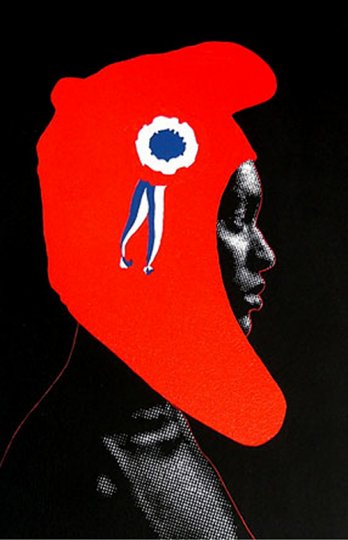 Alexis Peskine_Mariam.
E.D.: What do you consider your influences, what inspires you?
A.P.:
Well there are 2 kinds of influences: Things that influence my work aesthetically, and things that influence my work conceptually. Conceptually I find topics anywhere from the news, to books, to advertising to societal things I observe. I'm a news rat and I watch France 24 a lot I also read articles on the net, and I love documentaries. Since my work deals with identity I also observe human behaviour whenever I travel. As far as aesthetic influences, it's not necessarily just fine art. Anything from art toys to music videos to magazines, to fashion photography and advertising, to films. I used to work in my aunt Marianne Rachline's small industrial design firm (Crayures) and she developed my taste for graphic design. I love bold clean things. I have to say I'm a big fan of pop art in general. I love Takashi Murakami, Warhol, Chuck Close, Jeff Koons, Damien Hirst, Ron Mueck, César, Jean Dubuffet, Eugène Delacroix, Jean Paul Goode, David La Chapelle, Michel Gondry, Hype Williams, Jean-Michel Basquiat, Chéri Samba, Matt Groening, Masami Kurumada (Saint Seiya), my friend Jordan Eagles and Hank Willis Thomas, Titus Kaphar, Ellen Galagher, Jota Castro, Satch Hoyt, my brother Anthony Peskine, Tedra Wilson, I also like craft and I admire the work of my New York mentor Eric Chapeau who works in piano and antique conservation. My work is a mix between graphic design, and meticulous ancient craft. I have an appreciation for classical things and when I am in Paris I spend a lot of time in the Louvre to observe and borrow strong aspects of a variety of ancient master works like the composition of Byzantine paintings, the drapery, movement and gesture of classical Greek and Italian sculpture, the pattern, the technique, the conceptual and textural of African art from Egypt to Benin.