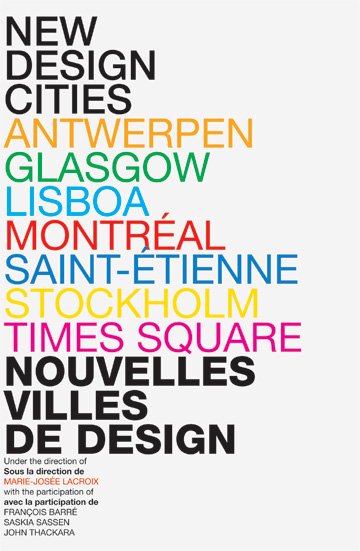 The New Design Cities
Creativity + Technologies + Sustainability
Emmanuelle Vieira, June 8, 2015
BOOK TO READ AGAIN

What do Cape Town (World Design Capital 2014), Helsinki, Montréal, Times Square, Glasgow, Antwerp, Stockholm, Saint-Étienne and Lisbon have in common? These are the seven medium-sized cities drawn together in a beautiful book entitled Nouvelles villes de design (New Design Cities). This book is an outcome of the 17th entretiens du Centre Jacques Cartier, an international symposium held in October, 2004, at Montréal's Canadian Centre for Architecture.
The publication is both thought provoking and a source of inspiration. Testimonials from mayors, designers, and citizens of each community, as well as the ideas of three eminent experts on cities and design -François Barré (Paris), Saskia Sassen (Chicago), and John Thackara (Amsterdam and Bangalore) - make up this collection of case studies. It examines how these different cities are becoming, or have become, a design metropolis, due to the fame of their designers, their design events and institutions, as well as their commitment to creative redevelopment based on consultation with all the stakeholders.
Marie-Josée Lacroix - P. Vittorio Vieira
Marie-Josée Lacroix
, Design Commissioner for the City of Montréal, was the driving force behind the international symposium on New Design Cities and author of this book, in collaboration with Josyane Franc from Saint-Étienne.
Emmanuelle Vieira: Why did you pick these cities as studies for urban design?Marie-Josée Lacroix:
First of all, we wanted to select only a small number of cities to allow for in-depth discussions. The concept started with Montréal and Saint-Étienne. We have had a common interest over the past several years to redefine our urban planning based on design. In keeping with this approach, we needed urban centres that were already involved in this sort of experimentation, that were committed to and practiced community involvement, particularly in terms of design innovation and development; Glasgow, Lisbon, Antwerp, Stockholm and New York's Time Square were obvious choices. For some the fact of hosting international events kicked off their evolution. Glasgow 99, Experimenta Design in Lisbon, and the Biennale Design in Saint-Étienne are examples. It was the fashion industry, new to Antwerp, that brought them to our attention; Stockholm was "rediscovered" by tourist and lifestyle media. So all the cities were selected for very different reasons, and that is because "New Design Cities" embraces communications, media events and municipal involvement in the field of design. What we wanted to study was what motivated them to become design cities, automatically eliminating the well known major design centres.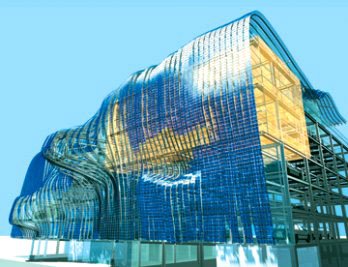 Lisbon - Design : Nuno Mateus Guerreiro