Ron Arad
No Discipline
Marie-Laure Jousset, November 17, 2008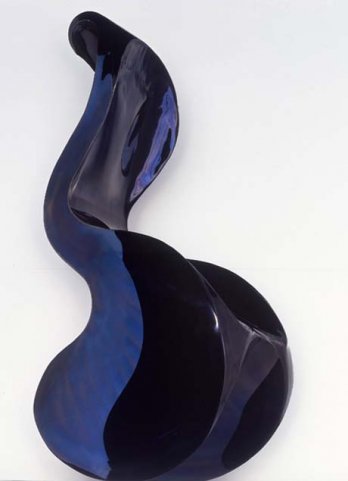 Ron Arad_No Discipline/Ron Arad_Siège At Your Own Risk (A.Y.O.R), 1991_Tom-Vack
Dialogue with Ron Arad...
Marie-Laure Jousset: You're back at the Centre Pompidou once more, after the exhibition 'Nouvelles Tendances' twenty years ago, in 1987. But this time for a solo exhibition. Is it important for you to show your work in public institutions like the Centre
Pompidou, or MoMA?

Ron Arad: Of course it's important, I'd be lying if I said otherwise. But it's important above all in terms of the relationship it allows me to establish with the public. A public institution is inevitably 'institutional', it's never perfect. If it was, I'd be free to do whatever I please there, and treat it as a kind of extension of my activities. In fact, the institution acts as a kind of filter. In general, it's a reassuring echo of the creative aspect of what we do, because it's all too easy to think that one's work is devoid of meaning. You also start to ask yourself whether you should do something this way or that way, or to question the usefulness of what you do, whether it will really be of any use to anyone. And you sometimes feel as if you're putting on a front, duping your public. I'm talking in general terms, I don't necessarily mean that this is what I do… the fact is, I don't want to feel as if I'm fulfilling some sort of duty. I want to do what I want to do, and have fun at the same time. And in a sense, an exhibition of my work at a cultural institution [like the Centre Pompidou] confirms to me that what I do is not totally insignificant.
M.-L. J.: I would even go so far as to say that in your case, this particular institutional setting is no stranger to what might be called a spirit of rebellion or criticism. [?]

R. A.: I do like to 'shake the palm tree' from time to time, it's true. Of course I'm delighted that one of my works is on display in a museum, that the Centre Pompidou or MoMA, recognise my work. And the fact that the piece isn't a picture, or even a piece of furniture, but a humble ping-pong table, a piece of sports equipment, is even more delightful. I like to disarm people when I show them something, so that they think: 'What's design doing here?' I also like the idea that a single piece can have several existences depending on the way it's presented. For example, playing with the reflective surfaces or patina of a particular work: you can use this to see an external landscape, or the morphology of a piece. I feel as if I'm using the institutional setting to serve my own subversive ends.
M.-L. J.: In terms of exhibition planning, the design and layout of a show, I firmly believe that since we are lucky enough to present the work of living, active artists, it's worth accepting the challenge, taking the risk, of giving them carte blanche. It seems to me that what results may be a new work of art in its own right.
R. A.: Taking care of the design and concept of an exhibition, and everything that goes with it, all the problems of getting it installed, is not something that interests me a great deal, in fact. I don't have any particular desire to get involved in that, I'm quite happy to leave it other people. I prefer to see myself turning up the day before the opening of one of my own exhibitions, taking a look around and enjoying it: 'Great: Terrific! That's beautiful..!'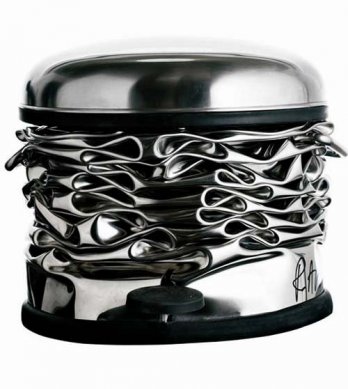 Ron Arad_No Discipline/CRASH Vipp ben brown by Ron Arad, 2008
M.-L. J.: I doubt that very much - you'd be too anxious.

R. A.: Ideally, I'd like things to happen that way. But in reality, as soon as I stick my nose into something, it's a lost cause. I end up wanting to do everything myself, and to include as many things as possible. For example at MoMA, where the exhibition will be presented in a year's time, after the Centre Pompidou, we have to design the entire space, because it's very different from the Centre Pompidou. When I discussed this with the curator, Paola Antonelli, I made a suggestion: we could imagine that the exhibition space is cut in two, with her exhibition on one side, and mine on the other. Just for a moment, it seemed like a really interesting experiment: the public would be able to judge our respective choices, compare how we each used the available space etc. I had to come down to earth and face the facts: it was an impossible dream. But I would be prepared to do that, absolutely.
M.-L. J.: Without going that far, it's true that over the course of this project, and in order to finalise plans, we have had to get together very often, to talk things over, exchange our views and ideas…

R. A.: With hindsight, I'm very happy about the outcome of our different conversations, which have, in the end, helped us to overcome a number of difficulties. To achieve this result, we have had to discuss, explain, convince, sometimes shift our positions, change our ideas. It's difficult for me because when I have one idea, I also have seven others, which I know are impossible, but at the same time, I still think they may be feasible after all.
M.-L. J.: But you would agree that presenting your work in a museum is not the same thing as showing it in a private gallery. As a public institution, we have a duty to encourage learning and knowledge-sharing, to show the public where the works are coming from, where they stand. Take the Concrete Stereo and Oh Void, for example: the first is set in concrete, and was produced by One Off in the 1980s, and the second is in silicon, produced by Galerie Mourmans in 2006. But if we were to display them just as they are, without explanation, without dates…
R. A. : … that's exactly the problem, I have to tell a story, one single story, and unfortunately not all the other stories I have in my head. Sometimes I think that a mental process ought to suffice as an exhibition [?] But for our exhibition here, I think I have the solution. Based on the floor, and new technology: in Milan and Maastricht, I've already tested and used an extensive system of floor based collage, which enables me to write things by hand, fix pictures and texts, use colours. It's a very flexible system, which suits me well. I can direct people, for example, by drawing arrows, as if to say to them: 'Go over there to see the work on the other side'. It's a way of giving the public information, but retaining the greatest possible sense of freedom.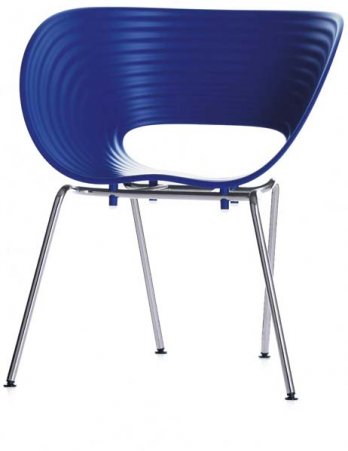 Ron Arad_No Discipline/Ron Arad_Tom Vac_Vitra,1999.
M.-L. J.: And this system integrates perfectly with your planned structure…

R. A: I take the foyer of the Tel Aviv Performing Arts Centre as my model structure for displaying one-off pieces and limited editions, because it's a project halfway between design by hand and design by digital technology. In fact, when we presented the design for the project, everyone thought: 'That's one of the finest examples of computer-designed architecture.' In fact the design was done by hand, but looks like a virtual-reality picture. The incredible thing is, it took just a single morning to model what it had taken four years to design! But with regard to the arrangement of the exhibition, I prefer to talk about an absence of structure, it's not my aim to turn it into a manifesto for 'No Discipline'.
M.-L. J.: No Discipline, indeed: we hesitated a great deal over these two words. [?] In seeking a title for the exhibition, did we have to resort to concepts of 'indiscipline', 'non-discipline', or 'no discipline'?

R. A.: It's true that French and English are languages separated by two cultures, two different worlds, and that words and expressions can be contradictory. But personally, I'm very happy with the title 'No Discipline' for the exhibition. There's no need for definition. Concrete Stereo alludes to architecture (because of the concrete), and to music, and yet it's also a piece of design. 'No Discipline' is exactly that.
M.-L. J.: And to come back to the concept of the exhibition itself, we have tried to reflect every aspect of your work, exploring three different avenues: unique pieces, industrial pieces and architecture. Are you worried that people will ask, 'Who is Ron? An architect? An artist? A designer?

R. A.: I hope people will say: 'He's a good architect, a good artist and good designer.' You know, when you go into the studio, there's no barrier between these functions, and you don't need a passport to go from one to the other. That's how I work, too bad if people feel a need to tidy things up and classify other people and things systematically. As I have said already, I like to have fun. I like it when people in an office feel as if they're at nursery school, when you don't start the week moaning about the fact that it's Monday. The idea of a playground, a recreation ground, is fundamental for me. I didn't plan to go into the world of design, I didn't do it on purpose… what happened was that I didn't feel comfortable working in an architectural practice. For example, when I made the piece that referred to the ready-mades - the Rover Chair - it wasn't because I wanted to save the planet by recycling, or because I wanted to get into furniture design, no, it was because at that time, I was able to do it. That's all.
M.-L. J.: It was within your means and capabilities, in a way.
R. A.: It was feasible, at any rate.