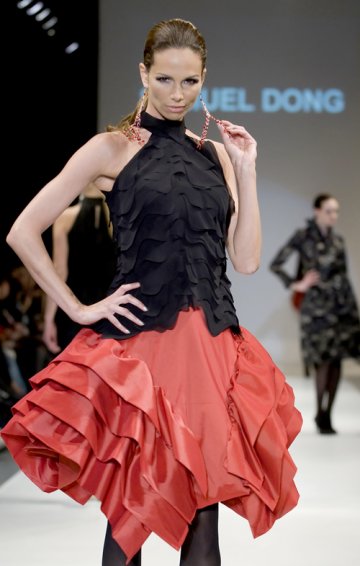 Samuel Dong
Features florals
Catherine Simard, November 10, 2008
Once again, Samuel Dong has put his signature - new Spring/Summer 2009 collection - style in the spotlight, with his appliquéd taffeta roses and puffed sleeves in the starring role. This warm weather collection also features florals in a black and white pallet dotted with touches of pink, leaf green, turquoise or red.
Samuel Dong/Samuel Dong_Collection Printemps-Été 2009
In this collection, Dong uses volume, symmetrical cuts and embroidery with two main types of fabric: taffeta and stretch cotton. His reversible jacket, a piece perfect for any mood and any season, can be easily matched with different ensembles. The dress-style raincoats, puffy skirts, playful shirts and flirtation with transparent fabrics give a fresh, modern feel to this must-have collection for her. The versatile high collars and bare shoulders transform an outfit from office wear to evening wear in an instant. Multi-functional glamour and chic comfort that can adapt to the needs of the modern woman are the trademarks of this collection.
Samuel Dong/Samuel Dong_Collection Printemps-Été 2009