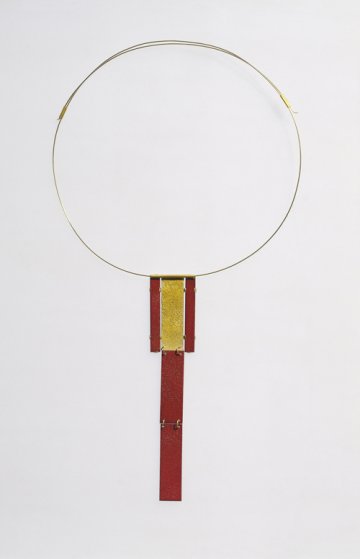 Hermann Jünger
Found Treasures
Bernadette Deloose, November 3, 2008
Hermann Jünger (1928-2005) is regarded internationally as one of the most influential goldsmiths of the present day. His work possessed ignitive, innovative character. His art revolutionised modern jewelry design.
"Found treasures and jewelry pieces united - connections, parallels, correspondences : one thing referring to the other… A piece of brick or scrap of rusted metal or plastic has no less value or standing than some expensively worked artifact made of the most costly materials - provided of course that each possesses the power and expressiveness of a fully accomplished form".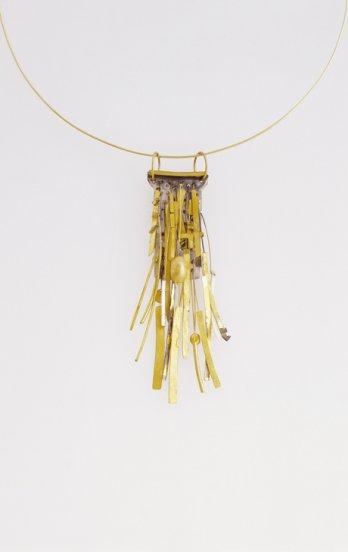 Hermann Jünger/Necklace_ca.1978-1979_Gold, silver, enamel, ivory_Eva Jünger
This is how Hermann Jünger described the role that found objects played as a source of inspiration to him. Now jewelry and found treasures by Hermann Jünger are united in an exhibition presented by Die Neue Sammlung. It was developed in close collaboration with the artist right up to time of his death in February 2005. He was not only rigorous in the selection he made from his own œuvre - from earlier works to late pieces - but also configurated and designed each of the showcases himself. As a result, both the exhibition and the items on display convey to the viewer utmost authenticity and power of expression and provide a rare and penetrating insight into this great goldsmith's way of seeing, thinking and working.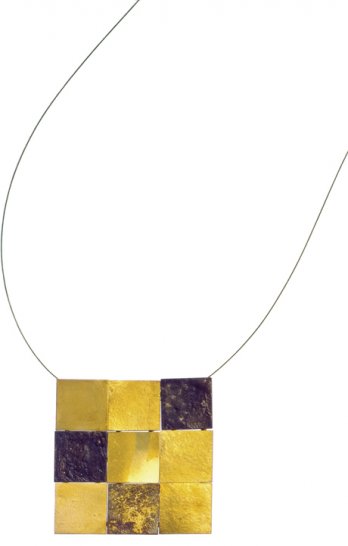 Hermann Jünger/Pendant 2002_Gold, niello, stainless steel_Eva Jünger 2002
Born in Hanau in 1928, Hermann Jünger graduated from the drawing academy there (Zeichenakademie) before joining the studio of the Bauhaus designer Wilhelm Wagenfeld at the WMF works in Geislingen. He subsequently went on to continue his studies under Franz Rickert at the Art Academy (Akademie der Bildenden Künste) in Munich. In 1958, the unusual jewelry of Hermann Jünger was chosen to represent the still young state of the Federal Republic of Germany at the World Expo in Brussels.