Ettore Sottsass
Ettore Sottsass & Sottsass Associati
Marie-Claude Beaud + Adrien Rovero, October 20, 2008
ETTORE SOTTSASS & SOTTSASS ASSOCIATI/Sottsass_Surtout Csàrda
"Songs and landscapes" Ettore Sottsass and the Manufacture nationale de Sèvres
During his initial collaboration with the Manufacture nationale de Sèvres (National Porcelain Factory of Sèvres) from 1994 to 1996, Ettore Sottsass created 14 vases and one table centrepiece, before adding another five objects (vases, bowl, centrepiece) in 2006, combining porcelain with glass, marble and string. Following in the tradition of the designer of practical use items, Sottsass called his objects "vases" and gave them names that conjure up a host of associations: 14 names of women hailing from the world of literature and five originating from known gypsy songs. By adding a few playful details and vivid colours characteristic of both himself and the Sèvres factory, Sottsass lightened up his ceramics, which typically display an architectural character and assume a strict form between sculpture and object.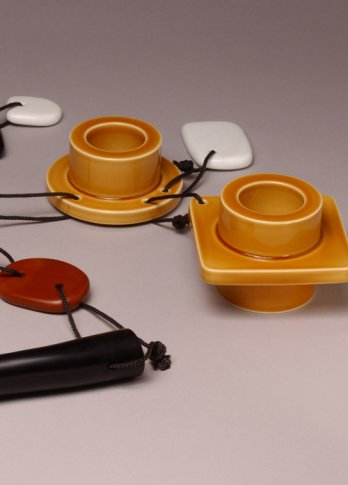 ETTORE SOTTSASS & SOTTSASS ASSOCIATI/Sottsass_Surtout Csàrda
As a result, the over one thousand colours belonging to the National Porcelain Factory were joined by a new coral-tinged orange-red colour, henceforth known as "Sottsass Rouge". The technical effort required to manufacture these items, which consist of several individual pieces, is hidden behind their final perfection, owing to an accumulation of skills encompassing more than 250 years. The choice of clay, turning and throwing the vases, joining the individual elements, the repeated burning, the enamelling, gilding and subsequent burnishing all require expert craftsmen, who together form part of a production group and whose survival these days is ensured by the French State at the highest artistic level.
ETTORE SOTTSASS & SOTTSASS ASSOCIATI/Sottsass_Surtout Csàrda
"Exercises in Another Material" Sottsass Associati and DuPont
The fourteen architectural forms grouped together under the title "Exercises in Another Material" are the result of a study carried out by Ettore Sottsass' design agency Sottsass Associati in 2000 to assess the potential of a material named Corian®, invented during late sixties by DuPont. Having experienced good results with Corian® during his interior design work at Malpensa's new airport, Sottsass suggested in 2000 that DuPont launch the product in an innovative manner by going beyond its typical use for countertops highlighting its colour diversity. The abstract forms thus designed by Sottsass Associati, reminiscent of architectural elements such as columns, walls, room dividers and similar, only sound the depths of the specific characteristics of this material, but also its technical and aesthetic limits. The experimental nature of these 14 architectural forms, both monumental and playful without any concrete functionality, allowed Sottsass Associati to further push the boundaries of the traditional designer.