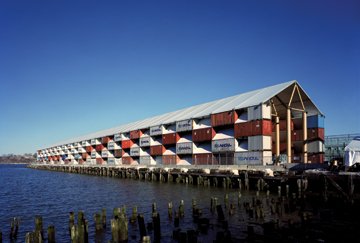 The Nomadic Museum
An Arche of Paper
Jacques Martin, September 9, 2006
New York's photographic exhibiton of the year is Ashes and Snow. Canadian photographer Gregory Colbert revealed an overwhelming display, not-seen until the 2002 Biennale de Venise. And now it is joined by an impressive architectural component as unique as the artwork itself.
The thirteenth century rope warehouse of the Arsenal of Venice, with its massive stone columns and shadowy, vaultlike space was a perfect setting to present, in a totally new way, this incredible collection of oversized photographs of whales, elephants, birds, old people and children.
With funding by the Bianimale Foundation, which Colbert co-founded,
Ashes and Snow
was able to become a travelling museum. Japanese architect Shigeru Ban, known for his whimsical, inexpensive, transportable structures, recalls how he was approached for this project. ''They were images like nothing I had ever seen before, primitive scenes of wild animals interacting with humans. While I was trying to comprehend this mysterious world presented before me, Gregory Colbert told me that he did not want to hold exhibitions in existing museums but rather wanted me to design a nomadic museum or traveling museum''.
First stop: New York, Pier 54 where the
Titanic
was to have docked 100 years ago. An auspicious choice?
On this dilapidated site, a titanic building, over 15 meters high and covering an area of over 4,700 square meters was erected, piece by piece - like a modern ark, housing hundreds of humans and animals, albeit all on paper...
P. Michael Moran