Aldo Cibic
Not an Archistar…
G.T., September 22, 2008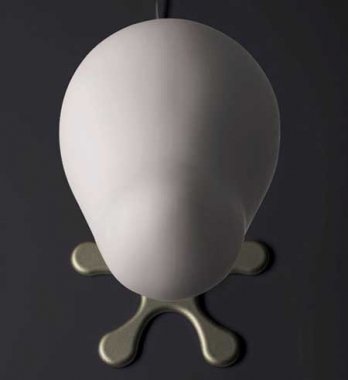 Coco Bordlampe_Foscarini by Aldo Cibic
Cibic & Partners
Cibic & Partners, one of the most well known Italian design studios, was established in Milan at the end of the eighties. For over ten years it has operated in many parts of the world.
The Studio is a composite reality that by choice and by calling has occupied itself with projects of different nature - ranging from architecture to interiors and from design to multimedia communications.
Cibic and Partners is guided by four partners: Aldo Cibic is the design nucleus of the Studio and along with Luigi Marchetti and Chuck Felton, is closely connected to the work groups that are dedicated to the various projects. Antonella Spiezio is the strategic core of the partnership and is responsible for the organisation, administration of financial and human resources.
 They are supported by a group of architects, interior designers, graphic artists, industrial designers, and a deep network of collaborating consultants of diverse professional and cultural backgrounds.
 The result is an environment where there is an intense exchange of stimulation and energy, and where the principal aim is the realisation of solid and innovative projects.
 The capacity for design and organisation are the two determining factors that make the Studio a creative and reliable partner for major business groups world-wide.


Aldo Cibic sculpture
ALDO CIBIC

_Architect and Designer, was born in Schio (Vi) in 1955.
In 1977 he moved to Milan to work with Ettore Sottsass, becoming his partner in 1980, together with Matteo Thun and Marco Zanini. That same year, 1980, marked the creation of Memphis, of which Cibic was one of the designers and founders, under the guidance of Sottsass. 
Today the main activities take place in Milan, with Cibic & Partners (www.cibicpartners.com) following urban, architecture and interior projects, and Vicenza with CibicWorkshop (www.cibicworkshop.com) involved in design and research, addressing the development of new design typologies. 
He also teaches at the Domus Academy, as part of the Industrial Design degree in the Faculty of Architecture at the Milan Polytechnic and as part of the Industrial Design degree in the Faculty of Design at the University of Architecture of Venice, as well as doing research on the relationship between design and society. He is Honorary Professor at Tongiji University, Shanghai.


ANTONELLA SPIEZIO
_Born in Torre Orsaia (Sa) in 1966. At the young age of 19 years, she embarked on two parallel roads that eventually met, transforming Antonella Spiezio into a versatile and well-rounded professional, as a result of her studies in Economics (she graduated in Milan in 1997) and her work at the Sottsass Associati Studio as Assistant to Aldo Cibic, where her organisational and managerial qualities immediately stood out.
 In 1989, she became founding partner and Managing Director of Cibic & Partners, a position she still holds today.
She is the strategic core of the Studio, handling the management of human resources and finances. Thanks to her unique brand of managing, having always grown within a highly creative environment, she guarantees the efficient organisation of work, following its development, management and day-by-day evolution.
 She is married and has two daughters.
LUIGI MARCHETTI

_Born in Livorno in 1967. He obtained a degree in Architecture at the University of Florence in 1992 and, until the end of 1993, was assistant professor of Architectural Design at the University of Florence. He later went on to private practice, carrying out numerous refurbishment works of both flats and offices. 

From Tuscany, he moved to Milan, where he began collaborating with Aldo Cibic on various projects in New York (Pepe Jeans, offices and showrooms), Turkey (Beymen Department Store and refurbishment of the Executive area of the Istanbul Stock Exchange) and England (Habitat Shops).
In 1995, he joined Cibic & Partners as Project Manager, signing off the main architecture projects realised by the Firm, consequently becoming partner in 2002. 
With the firm, he is currently responsible for the development of the project Milano Santa Giulia which is divided in an Hotel, offices and commercial areas.
Morover as interior designer he is restructuring two mansions in Rome and San Quirico d'Orcia (Si) and a conuntryhouse in Castiglione d'Orcia.
 He just terminated the exterior restyling of La Rinascente department store in Milan.


CHUCK FELTON

_Born in New York City in 1958. He received a Bachelors of Science degree from Yale University in 1980 and his Masters of Architecture from Columbia University School of Architecture and Urban Planning in 1984. During his graduate studies he worked for Steven Holl Architects and Robert Stern Architects.
 He started his practice in New York City working on public, commercial and residential architectural projects. He has worked as a design consultant in the high-tech and aerospace industry as well as working on projects for performing arts centers, theater design, and film sets.
 He taught as an Associate Professor at the College of the City of New York as well as serving as a guest critic and instructor at Columbia University, Pratt Institute and Parsons School of Design.
 Since 1997 he has been collaborating with Cibic & Partners as design architect. Architectural and interior projects include the exhibition Microrealities in Graz kunstadt, Positec headquarter and production facilities, Cisl new headquarter in Vicenza.
He also worked on Medusa Multicinemas, Selfridges & Co. Department Stores in Manchester e Birmingham, Spizzico Restaurants, Geox Shoe Stores, I.net British Telecom Headquarters / Web Farm Facilities in Milan and Move In Mixed-use Commercial Complex in Legnano. Graphic design projects include the Saatchi & Saatchi Corporate Web Site.
www.cibicpartners.com