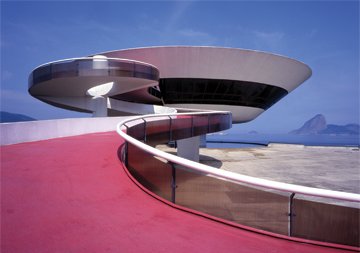 Oscar Niemeyer
Joyous Curves
Emcie, September 8, 2006
While the straight path may be the shortest distance between two points, a winding road might be a lot more interesting. In fact nature abounds with examples of the curvilinear form.

Oscar Niemeyer - P. Michel Moch
World renowned architect, Oscar Niemeyer clearly remembers his first inspirations. ''Curves attracted me, especially free and sensual ones that evoked memories of old baroque churches.'' A curve is a beautiful line, logical and gracious, but only if it is well structured and drawn.
The brilliant Brazilian architect was born in Rio de Janeiro in 1907. Infatuated with liberty, friendship and unconditional love for women, he has given us an ode to beauty. His works are witness to the brilliance of the emerging school of Brazilian architecture, which evokes feelings of community and fraternity, boldness and determination.

When Oscar Niemeyer reminisces, we can't help but hear the laughter and gaiety of women. He starts with the stories about his mother, followed by those of his aunts, cousins and sisters. Then, it is the stories surrounding the prostitutes in the bohemian quarter and Eloa's bordello in Pôrto Alegre, where the girls were beautiful and voluptuous. Then later there is his wife, his cherished daughter and granddaughters, one of whom today manages the Oscar Niemeyer Foundation. For Oscar, women know how to share and welcome you with open arms. They are ethereal; their sensual silhouettes are an echo of freedom and inspirations in themselves.

Oscar married Annita Ballo when he was 21, then began his studies at l'Escola Nacional de Bellas Artes, where he graduated in 1934. During his studies, he volunteered at Lucio Costa's architecture studio (1) thus beginning both his career and an enduring friendship. In 1936 he worked with Le Corbusier on the new building for the Ministry of Education and Health in Rio de Janeiro.
(1) Architect and urban planner (1902-1998), created the original plan for Brasilia.