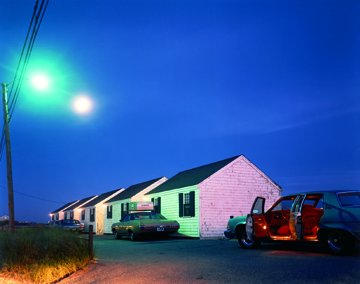 Joel Meyerowitz, Out of the Ordinary
1970-1980
Michaël Houlette, August 23, 2006
This is the first European exhibition of the colour photography of Joel Meyerowitz.

Produced by the Jeu de paume and organised in close collaboration with the artist, the show offers a selection of photos taken between 1970 and 1980, a period of what the photographer saw as radical and decisive change. Although Meyerowitz had taken colour photographs ever since the start of his career, in 1962, it was only at the turn of the 1970s that he began working exclusively in colour. The 120 vintage or modern prints in the ensemble presented here survey that vital decade that saw him questioning the medium, engaged in aesthetic exploration and developing a new style of photography.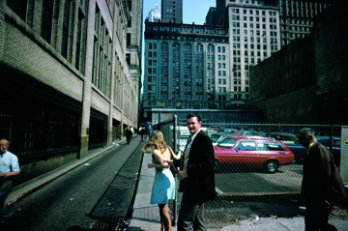 P: Joel Meyerowitz, New York City, 5th Ave. and 57th St., 1975 - Courtesy Edwynn Houk Gallery, NY
"By the early 70's color technology had advanced to the point where one could make prints in the darkroom without the difficulties and expense experienced in the 60's. It was then that I committed myself entirely to working in color. My reasoning was; if we accept the idea that a photograph basically just describes things, then a color photograph describes more things, that there is more content in color and I wanted to see what those kinds of photographs might look like. At the same time I was beginning to feel that there was more to photography than making good "catches" of life on the streets, and that the contrapuntal tactics of Cartier-Bresson, and the well timed, and gesture centered images of my own and my peers was something I had to give up.