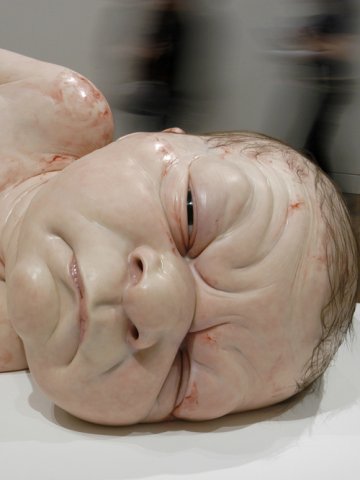 RON MUECK + GUY BEN-NER
REAL LIFE
Josée-Britanie Mallet, July 28, 2008
In Shawinigan Space at La Cité de l'énergie, the National Gallery of Canada (NGC) presents
Real Life
, an exhibition showcasing the work of two important figures in contemporary art: internationally reknowned sculptor Ron Mueck, and the Berlin-based video artist Guy Ben-Ner. Organized by the NGC and presented by La Cité de l'énergie, the exhibition features six sculptures by Mueck and nine works by Ben-Ner, including seven installations and videos, and two drawings. An extensive display of preparatory materials for each artist, including sketches, maquettes and storyboards is also featured.
"Real Life follows Ron Mueck's outstanding solo show at the NGC in 2007, and offers Canadian viewers the opportunity to investigate his production in great detail,"
said the Director of the NGC, Pierre Théberge. "At the same time, it introduces us to the works of Guy Ben-Ner, that humorously but critically engages the everyday dramas of real life."
Ron Mueck_A Girl_Une fille, 2006
The extraordinary hyper-realist sculptures of Ron Mueck revisit the course of life from birth to death, while Guy Ben-Ner's affectionate and intimate "home videos" dwell on more precise moments when life and our relations with others begin. Together, the work of these two artists creates a narrative in Real Life about the contradictions, challenges, and creative possibilities of the human condition. According to Jonathan Shaughnessy, NGC Assistant Curator of Contemporary Art, "Real Life draws connections between two very different artists who share a common interest in a direct, hands-on approach capable of bridging the gap between experience and our reflection on it. In this, neither Ron Mueck nor Guy Ben-Ner stray very far away from 'real life' - in artistic process or content – as they work to diffuse the boundaries between art and everyday life."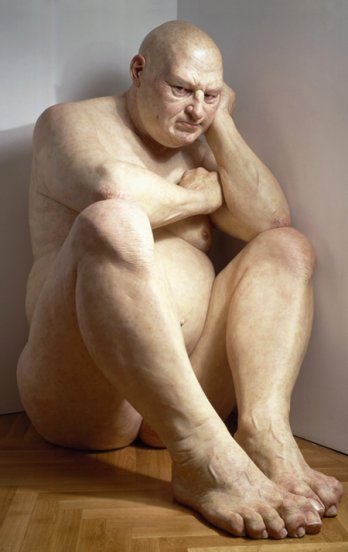 Ron Mueck_Big Man
Both Mueck and Ben-Ner make the immediate world around them the focus of their work, including their families. Guy Ben-Ner's family members serve as actors in all of his videos while Mueck often uses relatives and close acquaintances as models in his sculptures.