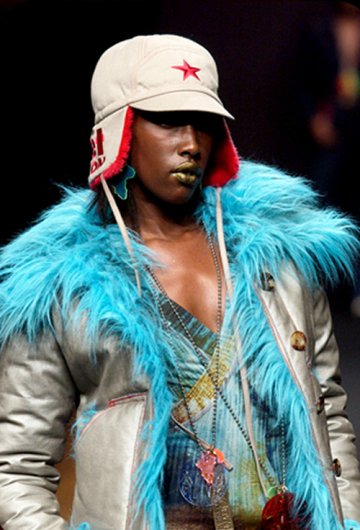 Lamine Badian Kouyaté
Xuly Bët's architect
V. V. + T.P., July 14, 2008
Working under his label
Xuly Bët
("watch out" in Wolof), Lamine has created a young, urban and trendy style in which the body is moulded and idolised. He uses synthetic materials (sometimes hand-dyed in Senegal), lace, fake fur, T-shirts with provocative slogans, and the omnipresent red thread to keep track of an extravagant woman who has no inhibitions about flaunting herself. Behind the Xuly Bet fashion label, there is Lamine Badian Kouyate, a Malian. His Boutique is in the fashionable forum des Halles in Paris. He started out in 1989 with an urban-pluri-ethnic fashion based on bits and pieces from second-hand clothes. By making then an "in" thing, he managed to impose an almost revolutionary style on the elitist world of French fashion. Today, Xuly Bet has taken up the challenge of production and international distribution. Let us take a look at the man who finds insopiration in the streets of Paris. Xuly Bet was born in Bamako on 28 December 1962. He is the fifth child in a family of 6 boys. His father, married to a Senegalese doctor, was a minister. As a teenager, he went to Dakar and obtainedhis diploma from the school of Fine Arts and Architecture.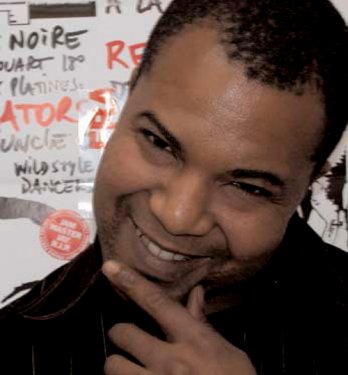 Lamine Badian Kouyaté
He decided to continue studying architecture and chose the city of Strasbourg. "
I couldn't study architecture in Bamako or Dakar. France offered me an opportunity"
, he said. So Lamine set about constructing clothes. His method was to turn clothes bought in the Flea Market into elegant and sexy outfits. Even if he no longer uses second-hand clothes, this creative attitude has remained the same. "What is characteristic of my style is sensuality, the second-skin aspect and the over-layering".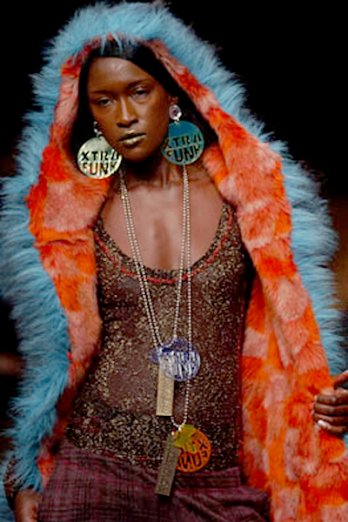 Xuly Bët by Lamine Badian Kouyaté