Juan Muñoz
A narrator sculptor
Sheena Wagstaff, July 7, 2008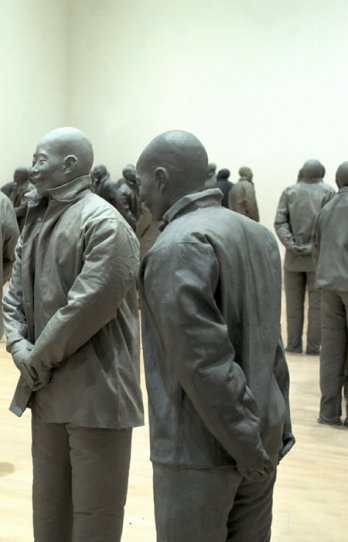 Juan Muñoz_Many Times
With the human figure as the central character, one of these grey scenes sculpted in bronze,
Hanging Figure
(2001) hangs from the ceiling of a small gallery in the Museum, as a sort of chapel. Although a clear allusion to Miss La La, the trapeze artist Edgar Degas immortalized and which Juan Muñoz saw as a student in London, in this scene the figure is stripped of its playful nature and transformed into an image of worry and anxiety that breaks down the frontier between normality and alienation. This anxiety also appears in
Shadow and Mouth
, from 1996, a work belonging to the Guggenheim Museum Bilbao Collection. Here the artist presents two figures face to face across a table, whose falling shadows underscore the wordless dialogue that echoes silently throughout the exhibition. Two other works are on display in this gallery: Staring at the Sea I (1997/2000), and
One Figure
, from 2000. They both play with the amplified image reflected back by mirrors in a new optical effect that once again enables Muñoz to manipulate space, evoking the theater of Luigi Pirandello.
Crossroads Cabinets
, 1999, which are to be found in the adjacent areas, bring together Muñoz's body of work in genuine cabinets of curiosities. The collection of doors, members fashioned in resin, sculptures and miniatures stored in fragile showcases bring to mind the image of old hospital closets.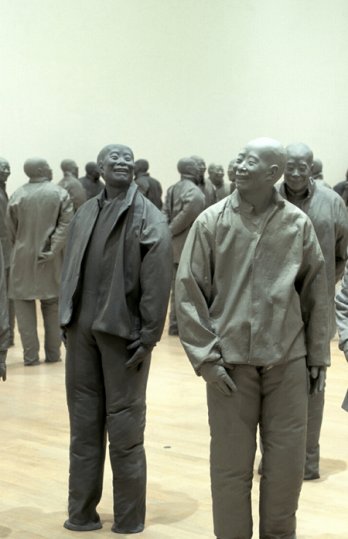 Juan Muñoz_Many Times
The exhibition also reveals Muñoz's interest in film, and film's influence on his work in the plastic arts. Accompanying his sculptures is a generous selection of his drawings, on display in gallery 202, particularly his series
Back Drawings
(1990),
Mouth Drawings
(1995), and his
Raincoat Drawings
(1989). In the latter series, done in white charcoal on black raincoat fabric, Muñoz depicts sparsely furnished rooms that normally contain staircases or doors leading to unknown spaces, while leaving us to imagine a before and after for each image, like camera snapshots. Radio and sound works were another of the fields Muñoz explored during his career. These he produced in collaboration with some notable personalities, such as novelist and art historian John Berger or composer Alberto Iglesias. He created ten five-minute fragments entitled
A Man in a Room, Gambling
(1992/97), one of his best known works in this medium, with British composer Gavin Bryars. Here Muñoz described card tricks to the accompaniment of music composed by Bryars. The works were broadcast by the BBC.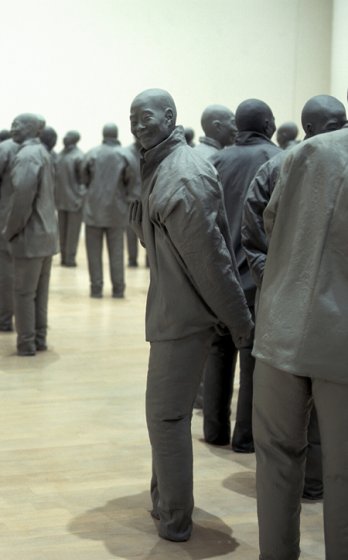 Juan Muñoz_Many Times
Will it be a Likeness?
(1996),
A Man in a Room, Gambling
(1992),
A Registered Patent: a Drummer Inside a Rotating Box
(2001–02), and
Building for Music
(1993) are four radio and sound works Muñoz created, together with the unreleased Third Ear , and which captured radio broadcasts from around the world. Rounding off the exhibition are some examples of Juan Muñoz's literary works, a selection of essays and writings that put the finishing touches to this portrait of a great narrator, an artist whose idiom connects with the deepest recesses of the human condition and with which, in just twenty years, he produced one of the most substantial bodies of work of our time.

www.guggenheim-bilbao.es