Juan Muñoz
A narrator sculptor
Sheena Wagstaff, July 7, 2008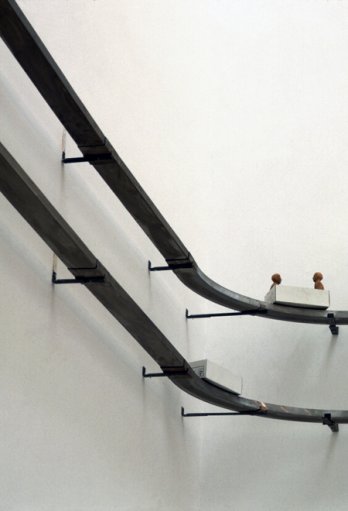 Juan Muñoz_Leaving in
Muñoz's first major installation,
The Wasteland
(the title borrowed from T.S. Eliot's poem), is from 1986 and is to be found in gallery 206. A linoleum floor inspired by Italian Baroque Masters such as Francesco Borromini creates an optical illusion that directs the spectator's gaze towards a strange figure who observes us from the wall: it's a ventriloquist's dummy. Muñoz used a similar architectural ruse a year later in
The Prompter
(1988), installed in gallery 207. Here the floor is transformed into a scenario where a small prompter turns his back on the spectators to gaze at a desolate proscenium where only a drum remains.
"Architecture gives figures backing. I learnt from Carl Andre that the floor was important in activating space, but I make optical floors because they help to augment the tension of the figures,"
explained Muñoz, a keen student of language and architecture. His installations play with presence and absence, destabilizing the visitor's experience and accentuating in him the awareness of his own identity.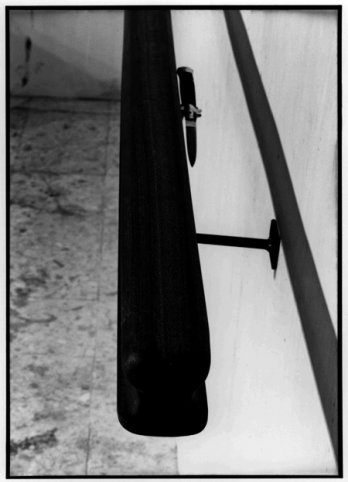 Juan Muñoz_M_First vanister
In the 90s the human figure in Muñoz no longer resembles reality, creating groups and installations of increasing complexity instead. His much-praised Conversation Piece (1994) features genuine sculptural studies in social interaction in which small characters with spherical bases relate with each other in a mute dialogue that seems to exclude the spectator. One of the most outstanding of these works, whose title alludes to the kind of group scenes popular in 18
th
century English painting, and to which Muñoz adds the modeling, will be on display in the unusual gallery 209. Created in 1994 for the Irish Museum of Modern Art (IMMA), the work has not been seen in Spain since that time. The sensation of intruding one gets throughout the exhibition eventually calls into question the limits of time and space. This happens with "ingenuous" works like 1994's
Living in a Shoe Box
(for Diego) , in which two small figures travel permanently in a shoe box, as if trapped in a train carriage, never to arrive anywhere.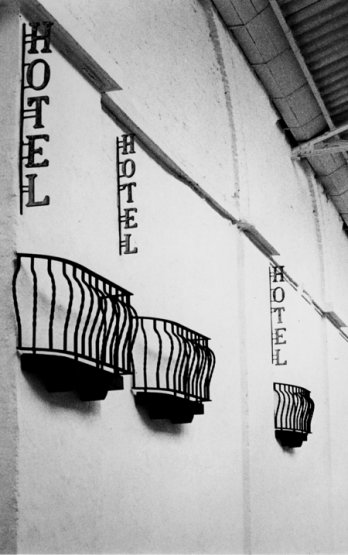 Juan Muñoz_Hotel D
Anodyne characters in grey suits emerge from corners of the Museum and take us back to the foundations that underlie the work of Juan Muñoz. An absolute universe that bears the influence of the works of Alberto Giacometti, Luigi Pirandello, Francesco Borromini and Edgar Degas, among others, and which is reflected in one of Muñoz's most famous works,
Many Times
(1999), composed of one hundred smiling figures with Asian features and no feet, who appear to be locked in animated conversation. This overwhelming army of figures, installed in gallery 208, turns the spectator into a distant observer of a strangely disturbing world. Outside the Museum, a similar welcome awaits the visitor in
Thirteen Laughing at Each Other
(2001), a work last exhibited in 2005 in the gardens of the Venice Biennale. Here, thirteen smiling figures on benches talk to each other.