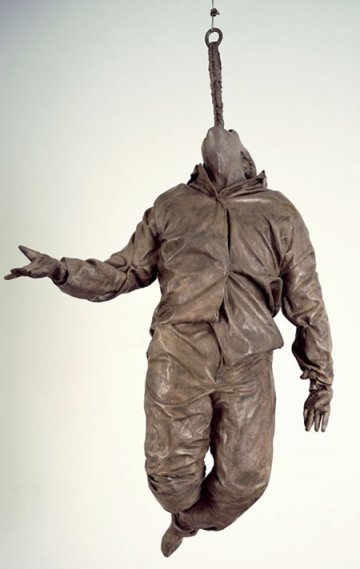 Juan Muñoz
A narrator sculptor
Sheena Wagstaff, July 7, 2008
The Guggenheim Museum Bilbao is staging the most important retrospective exhibition in Spain of works by Juan Muñoz (Madrid, 1953 - Ibiza, 2001), widely considered one of the world's finest contemporary sculptors and installation artists. With a selection of nearly 80 works, including sculptures, installations, drawings, radio works and writings, the selection reveals some neglected aspects of the Madrid-born artist's broad, innovative register. Muñoz studied art in London and New York, living in both cities for a number of years after a brief period spent studying architecture in Madrid. In the mid 1980s and early 90s, after major exhibitions all over the world, Muñoz had established himself on the international art scene as one of the most important sculptors of recent decades. In Spain, however, true recognition came late, finally arriving in the year 2000, when he was awarded the country's Premio Nacional de Artes Plásticas.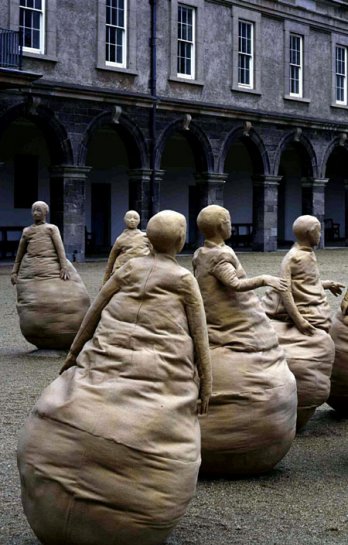 Juan Muñoz_Conversation
From his early architectural works - staircases, balconies and banisters - located in impossible settings, by way of his optical floors that dissolve the limits of space and time, to his dramatic, theatrical installations involving groups of human figures that evoke the solitude of the individual in society, Muñoz's works play with the spectator, enticing him into relating to them, even awaking feelings of unease and isolation. Muñoz described himself as "a narrator", and his ability to propose new forms of contemplation and thought, to create tension between the illusory and the real, made him one of the few artists capable of renewing contemporary sculpture.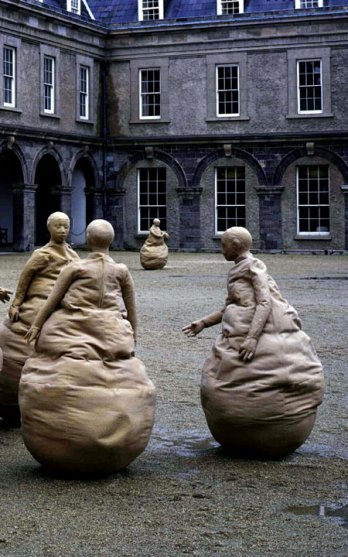 Juan Muñoz_Conversation
In 1984 a small spiral staircase standing against a wall and with a balustrade above was presented in Madrid in Juan Muñoz's first solo exhibition. This work was the first of which the artist remembers as having "a certain sensation of identity." This architectural motif would be repeated throughout his career. More than twenty years later,
Spiral Staircase
(Inverted), 1984/99, a small spiral staircase directly related to the earlier piece, opens the artist's retrospective exhibition in Bilbao. His work often provides strange places to see and be seen, like the empty balconies of the series
Hotel Declercq I-IV
(1986). Together with works like
Double Balcony
(1986), they transform the gallery area into a small, disquieting urban district that stands in what are completely alien architectural surroundings. These architectural features have been deprived of their functions: windows that don't open, banisters you can't lean on; they are works in which Muñoz inserts objects usually occupied by man in landscapes he generally inhabits. A good example is
Derailment
(2000–01), a work not on show at Tate Modern, London, but which is included in the Bilbao version. Here the city takes up the inside of a derailed train, it being impossible to say where it starts or where it ends.