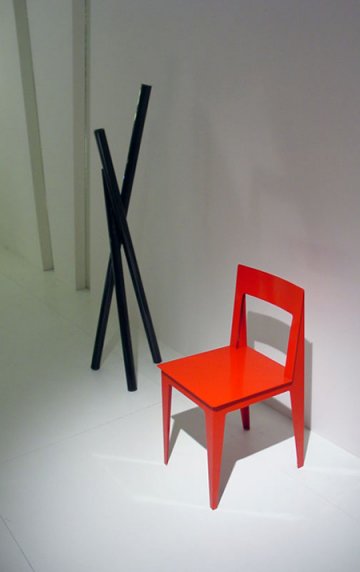 Marie-Aurore Stiker-Métral
Have a seat!
B. D., June 16, 2008
Marie-Aurore Stiker-Métral_The Pliée chair for Ligne Roset
PortraitExpress
Marie-Aurore Stiker-Métral decided to rub shoulders with the more concrete world of materials after a very theoretical, not to say conceptual, background of studies. The Industrial Design College (Ensci) opened its doors and over four years she worked alongside Stéphane Bureaux, Jean-François Dingjian and François Azambourg, reflecting on air, that "mural texture", a project directed by Laurent Massaloux, rounding off her studies with a critical work on "The paradoxes of discretion", that treats the notion of discretion in design. Her degree project "Domestic Techniques" supervised by Erwan Bouroullec proposes three objects borne of experiments with domestic techniques of plaiting and weaving: an armchair, a lantern and shelving with sides composed of a textile sheath made from ribbons, boat ropes, straps, climbing rope and fat long cushions made with her own hands. Noticed on the VIA stand in 2007 by Michel Roset (Ligne Roset), she also presented "La Pliée" at the Now ! design à vivre fair in January - the result of her prototype, a chair in folded sheet steel inspired by techniques from the world of boats. It is available in red, white and black.
The Pliée chair by Marie-Aurore Stiker-Métral_Ligne Roset