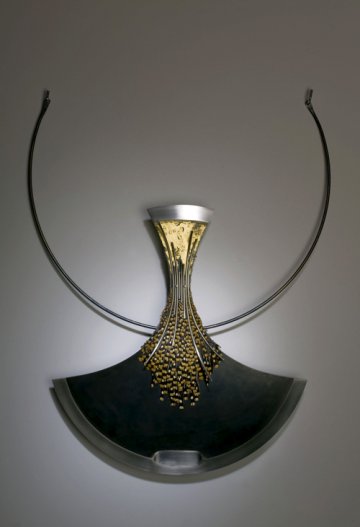 Club of 8
The 2008 Governor General's Awards in Visual and Media Arts
Nadia Hammadi + Terry O'Grady, June 9, 2008
The eight laureates of the 2008 Governor General's Awards in Visual and Media Arts have made remarkable contributions, over several decades, to our fields of perception, our lines of thought and our ways of being. Their work is expressed in material and ephemeral form, but its essence lies in their penetrating imaginations and in their capacity to range freely in the world of ideas, to translate what they discover into daring and complex creations, and to inspire viewers to stretch their understanding. We thank them for the insight they have given us. Kenojuak Ashevak for her enchanting and fantastical vision of the spirit of the North; Serge Giguère for the respect for character that infuses great documentary; Saidye Bronfman Award winner Chantal Gilbert for the lyricism of her metal work; Michel Goulet for his dramatically innovative sculpture and public installations; Alex Janvier for his modernist abstractions imbued with profound spirituality; performance artist Tanya Mars for being her own unique visual philosopher; Eric Metcalfe for his avant-gardist and interdisciplinary energy; and art historian and administrator Shirley Thomson for tirelessly promoting the place of art in the nation's public spaces.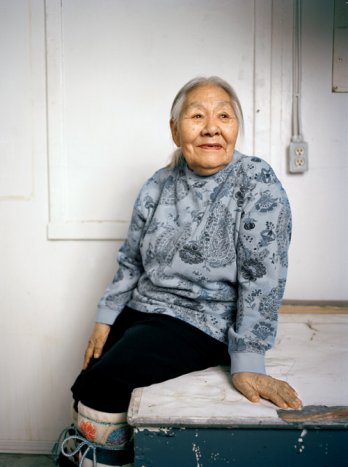 Kenojuak Ashevak_Martin Lipman
Portraits…

Kenojuak Ashevak
Kenojuak Ashevak is probably the best known and most acclaimed of all the remarkable Inuit artists who have emerged in the North in the last half century. Her own story is as remarkable as the story of Cape Dorset and its printmakers and sculptors. Many of Kenojuak Ashevak's drawings, prints and sculptures have become icons, etched into the public consciousness. Her bold shapes, bright colours and fantastical creatures have endured for some 50 years, reflecting a unique vision and a special relationship to the land. Born in 1927 in Ikerrasak, a campsite on southern Baffin Island, she lived a traditional nomadic life on the land before settling her family in Cape Dorset, where she still lives. Kenojuak Ashevak was featured in a National Film Board production, Eskimo Artist - Kenojuak, and her graphic images have been used on Canadian stamps. She is a Companion of the Order of Canada, a member of the Royal Canadian Academy and the recipient of two honorary doctorates.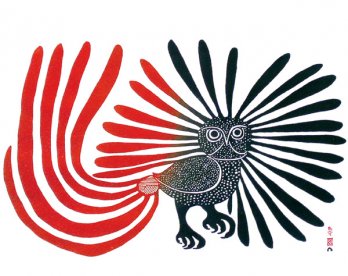 Kenojuak Ashevak_The Enchanted Owl, 1960