A tribute to Yves Saint Laurent
1936 - 2008
Florence Müller + Catherine Guex, June 2, 2008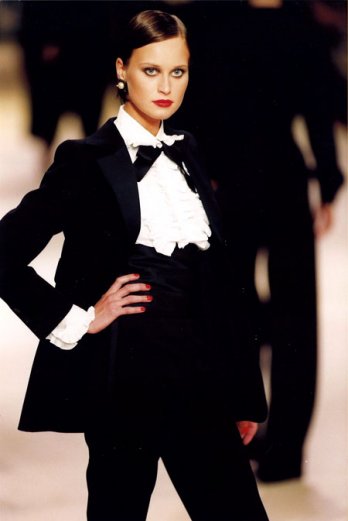 Yves Saint-Laurent_First Smoking_1966 Fall/Winter Collection, number 76_Fondation Pierre Bergé - Yves Saint-Laurent
The Montreal Museum of Fine Arts and the Fine Arts Museums of San Francisco have designed and developed, in partnership with the Fondation Pierre Bergé - Yves Saint Laurent, the first retrospective spanning the forty years of creation of the Maison de haute couture Yves Saint Laurent. The exhibition
Yves Saint Laurent
focusses on this virtuoso of haute couture, whose unique style blends references to the world of art with allusions to pop culture and social revolution. Structured around four themes, the exhibition develops the revolutionary nature of a body of work that has marked both the past and the present with a new definition of femininity and left a signature that transcends fashion. The display will include 145 accessorized creations belonging to the Fondation Pierre Bergé - Yves Saint Laurent, as well as drawings and videos. After Montreal, the exhibition (which is the first co-production of these two museums) will be presented at the de Young Museum of San Francisco, from November 1, 2008, to March 1, 2009.
Yves Saint-Laurent_Evening long dress ,1968 Fall/Winter Collection, number 74_Fondation Pierre Bergé - Yves Saint-Laurent
Yves Saint Laurent is famed for revolutionizing the haute-couture tradition and laying the foundations of modern women's wear. The wardrobe basics that he designed - pantsuit, culotte skirt, pea coat, blazer, safari jacket and tuxedo ­- shone with his innovative style and became true timeless classics. His designs were equally remarkable, reflecting wide-ranging sources of inspiration. In Saint Laurent's stylistic vocabulary, music, art, performance, literature and impressions of far-off places were just as important as the new shapes he introduced.
Yves Saint-Laurent_Suit & Trousers_1978 Spring/Summer Collection, number 7_Fondation Pierre Bergé - Yves Saint-Laurent