A tribute to Yves Saint Laurent
1936 - 2008
Florence Müller + Catherine Guex, June 2, 2008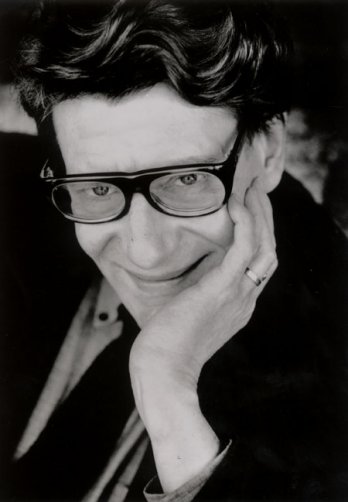 Yves Saint-Laurent_Fondation Pierre Bergé - Yves Saint-Laurent_André Rau
Born in 1936, Yves Saint Laurent spent his childhood in Algeria. Moving to Paris in 1954 to take design courses at the Chambre syndicale de la haute couture, he caught the eye of Christian Dior and was hired as his assistant the following year. At the age of twenty-one, he took the reins of the House of Dior after the master's sudden death in 1957 and swiftly rose to triumphant fame with his Trapeze line. In 1958, he met Pierre Bergé, then a theatre director and stage producer, who went on to manage his career. With Bergé's help, Saint Laurent founded his own maison de haute couture. On January 29, 1962, he unveiled his first collection under the Yves Saint Laurentlabel, an array of dazzling creations stamped with the inimitable style for which he will always be known. Pioneering the couturier move into the ready-to-wear market, Saint Laurent also designed costumes and sets for such famous ballets and plays as Cyrano de Bergerac (1959) and The Marriage of Figaro (1964), and for films including The Pink Panther (1963) and Stavisky (1974). He also dressed a number of actresses, the most famous being Catherine Deneuve.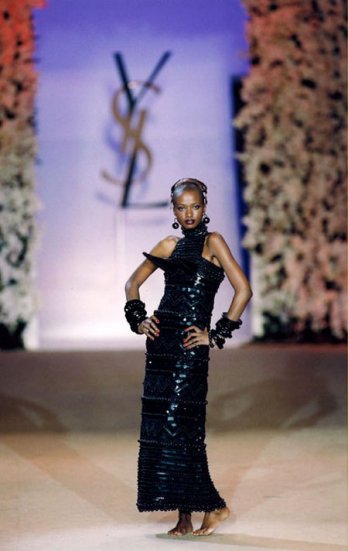 Yves Saint-Laurent_Robe longue du soir, 1967 Spring/Summer Collection, number 108_Fondation Pierre Bergé - Yves Saint-Laurent
On January 7, 2002, Yves Saint Laurent announced to the press his retirement and the closure of his maison de haute couture. On January 22, a crowd of 2,000 admirers from around the world gathered to celebrate his career at a valedictory fashion show staged in Paris. Since stepping down, he has worked with Pierre Bergé managing the Fondation Pierre Bergé - Yves Saint Laurent, which holds a remarkable collection of more than 5,000 ensembles and 15,000 objects that trace the history of the House of Yves Saint Laurent. Yves Saint Laurent not only transformed the world of women's fashion, but is also the first living haute-couture designer to be honoured by a museum. In 1983, the Metropolitan Museum of Art presented the very first exhibition on Yves Saint Laurent, which later travelled to Beijing, Saint Petersburg, Moscow, Paris, Sydney and Tokyo. In 1985, he was awarded the "Oscar du plus grand couturier" at the Paris Opera House for lifetime achievement in fashion.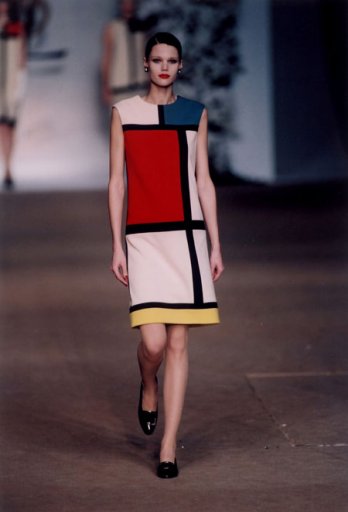 Yves Saint-Laurent_Cocktail Dress, Homage to Mondrian_1965 Fall/Winter Collection, number 81_Fondation Pierre Bergé - Yves Saint-Laurent