A Tribute to Müller-Brockmann
19th International Poster and Graphic Design Festival of Chaumont
Stéphanie Merran + Annie Lalande, May 26, 2008
En attendant Godot_Cervelatica
His work has been awarded many prizes: in 1988 he was nominated Honourable Royal Designer for Industry by the London Royal Academy of Art; in 1993, his project for the Swiss Federal Railway Company was awarded the Swiss Design Prize (Design Preis Schweiz). He died on 30 August, 1996, in Zürich. Over the last five years, the Chapelle des Jésuites has become the choice venue for contemporary graphic research. The singularity of the building's baroque architecture provides a challenge for graphic artists working in the space, giving rise to fantastic projects both in harmony and in discord with the space. For 2008, the Chaumont Festival has invited the French graphic designer Paul Cox to inhabit this space. For his exhibition at the Chapelle des Jésuites, Paul Cox decided, instead of re-presenting existing works, to create a work especially for the occasion.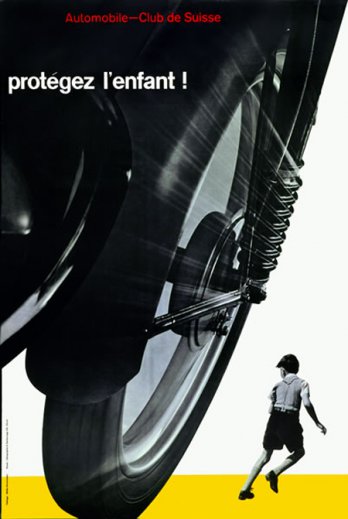 Josef Müller-Brockmann
Uncle Toby's Bowling-Green is a huge table 13 meters long by 10 meters wide depicting a landscape of mountains, hills and valleys, decorated with all types of routes, cartographic markings and signage as well as small architectural elements. Here and there, holes have been drilled in the table. These act as targets for exhibition visitors throwing bowls along the table top. If the bowls reach their target, they fall into a network of piping underneath the table, and roll into a collector located in the front of the installation. The name of the work refers to the novel "The Life and Opinions of Tristram Shandy, Gentleman" and the model (the "Bowling-Green") which plays such a central role in the novel. Thus, Paul Cox pays tribute to Laurence Sterne, his favorite author, who could himself be considered a kind of graphics artist, given his eccentric page layouts.
The family of man
This work contains Paul Cox's favorite themes (the table, the trestles, cartography, architecture) as well as his taste for active and fun visitor participation as already could be seen from his gigantic "Jeu de Construction" at the Pompidou Center in Paris in 2005, or his "Méthode" slides installation in 2007 at the Lux arts center in Valence.