A Tribute to Müller-Brockmann
19th International Poster and Graphic Design Festival of Chaumont
Stéphanie Merran + Annie Lalande, May 26, 2008
LoopTroop
After giving tribute to some of the major figures influencing 20
th
century graphic design – such as R. Savignac, A.M. Cassandre, and P. Rand - the Festival will focus on one of the forefathers of typography and layout, the Swiss Josef Müller-Brockman. The ideas of the "International Style" instigator are essential to understand our world and its rationale for globalization.
Müller-Brockmann studied graphic arts, design and architecture at university and at the Zürich Kunstgewerbeschule (Arts and Crafts College). In 1934, he settled in Zürich to work as freelance designer and illustrator and opened his own studio in 1936. In 1937, he joined the Swiss Werkbund. He designed the pavilion of honor for the Swiss universities and the "Physics and Medicine" and "History of Swiss Art" sections for the 1939 National Fair.
After the Second World War, Müller-Brockmann continued his work as designer, focusing on illustration and exhibition design. Substantial part of his work was dedicated to set design for numerous theaters in Switzerland and abroad. In 1950, Müller-Brockmann produced his first poster for the Zürich Tonhalle and started to develop a constructivist approach to graphic arts. In 1951 he became member of the Alliance Graphique Internationale (AGI). From 1952, he concentrated only on graphic arts and gained notoriety as graphic designer with his child protection poster for the Swiss Automobile club and his many posters for the Zürich Tonhalle. Four years later he gave a lecture at the International Design Conference in Aspen, Colorado.
Melinda_Cervelatica
In 1957, he succeeded Ernst Keller as professor of graphic arts at the Zürich Kunstgewerbeschule. In 1958, he founded the trilingual magazine Neue Grafik / New Graphic Design / Graphisme Actuel with designers Richard Paul Lohse, Hans Neuburg and Carlo Vivarelli. Two years later he left the Zürich Kunstgewerbeschule. He spoke at the World Design Conference in Tokyo and published in 1961 "The Graphic Artist and his Design Problems". He also produced various design projects including, in 1962, for Rosenthal- Porzellanwerke in Selb and for Max Weishaupt GmbH in Schwendi, Germany, or in 1964 for the "Education, Science and Research" section of the Swiss National Fair. The following year he founded "Galerie 58" in Rapperswil with Eugen and Kurt Federer. The gallery was renamed "galerie seestrasse" in 1974, which Müller Brockman run until 1990.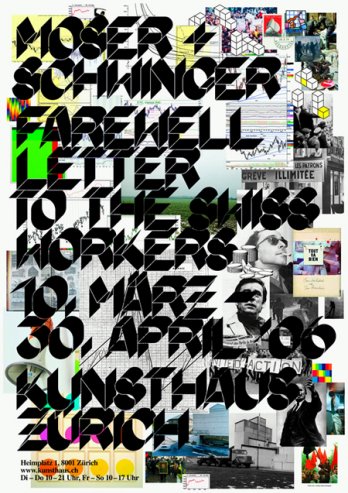 Bonbon_Cervelatica
In 1967 he was appointed Consultant to IBM and founded the Müller-Brockman & Co Workshop. He carried on his various activities and published a History of Visual Communication and a History of Posters in 1971, as well as Grid Systems in Graphic Design. In 1989 he was the co-author with Karl Wobmann of a book entitled Photographic Posters - From their Origins to the Present Day. He also produced a sculpture for the Interkantonales Technikum in Rapperswil. He participated in many exhibitions including The Language of Geometry Today - Suprematism, De Stijl and their Circles, in Berne 1985. From 1986 to 1993 he displayed his works in a touring exhibition of posters in North, Central, and South America, and repeated the experience in 1994 with a touring poster exhibition in eastern Germany, which included works by Shizuko Yoshikawa. The following year, he presented a paper at the International Graphic Conference in Cancun, Mexico.