New young african designers
Old Mutual Vukani Fashion Awards 08
Judy Bryant, May 26, 2008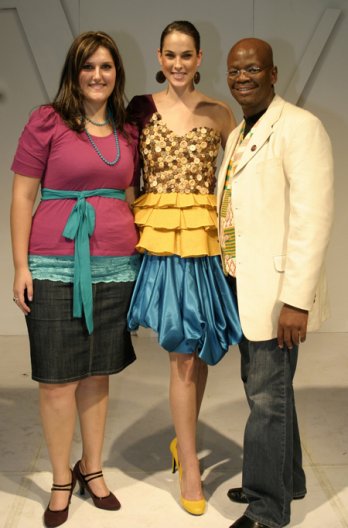 Natasha Morais, Model + Sonwabile Ndamase
Ndamase, the talent behind the distinctively South African designs of Vukani! ('wake up') Fashions, said all the finalists had already benefited from the training seminar and made valuable contacts.
"It's not so much about winning or not. The main thing is that we give the designers experience and mentoring in what is a notoriously cut-throat industry."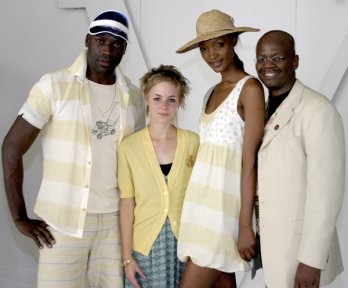 Karin Hoffman, 2 models + Sonwabile Ndamase
He said the awards have been a valuable platform for previous winners who had gone on to designing outfits for SABC presenters, set up their own studios, traveled abroad and achieved success in related fields such as fashion journalism.
"We are delighted to again support the Vukani Awards, as both Old Mutual and Vukani share a vision of contributing to youth development,"
added Old Mutual Brand Expression Manager Joy Khaole.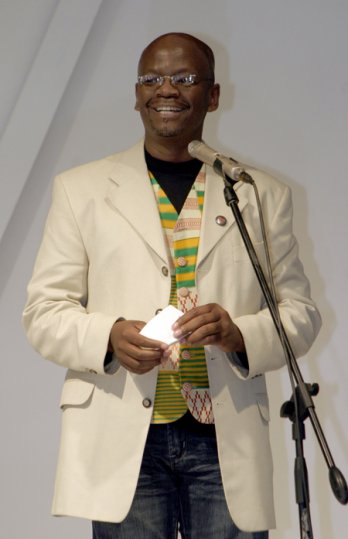 Sonwabile Ndamase, Executive president of the South African Fashion Designers Agency
"With Vukani, there is a true commitment to ensuring that designers from all walks of life in South Africa access the opportunity to develop and market their skills through a platform that would ordinarily not be available for emerging young fashion entrepreneurs. "
We fully support the founding principles of empowering young local talent; bringing together different cultures; focusing on education and entrepreneurial development; and boosting accessibility to both financial and marketing resources,"
she says.