New young african designers
Old Mutual Vukani Fashion Awards 08
Judy Bryant, May 26, 2008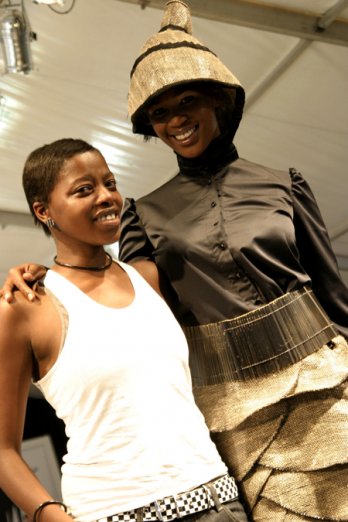 Tozama Nandipha Dyantyit + model
The winners were selected from 14 finalists by an eight-member panel that included singer and entrepreneur Yvonne Chaka Chaka; MTN Durban Fashion Week co-ordinator Greg Wallis; and O Magazine fashion editor Primrose Moloantoa.
The young finalists first attended an intensive three-day business and fashion training workshop then showed six garments each at a Menlyn Park shopping centre fashion show. At a gala dinner that evening they met local fashion industry stars, previous Vukani Awards winners and established designers from Mozambique, Nigeria, Botswana, Angola and other African countries.
"Their lives will not be the same again - this is a springboard into the business of fashion,"
said Wallis.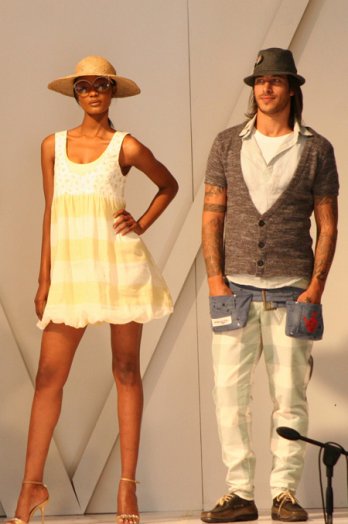 Karin Hoffman Collection
The judges had examined every one of the 14 finalists' garments "from top to toe" and interviewed every designer individually, he said. "The standard and content of this year far supercedes anything we saw last year. The work is exemplary and all are winners just by being in this show." Hoffman wove a gardening theme into her collection - florals and lace for women, shrunken jackets and cropped pants for the men in bright, retro colours.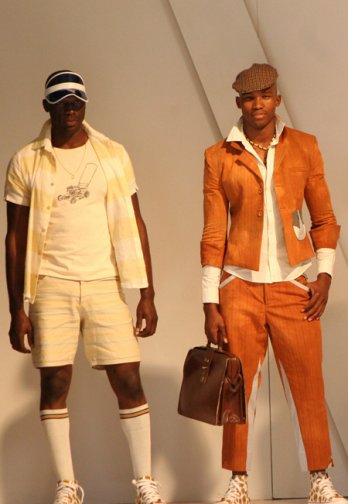 Karin Hoffman Collection
Dyantyi showed traditional Xhosa styling of layered, floor-length A-line voluminous silhouettes in earth and sky colours, as well as bright, bold '50s silhouettes pinched in at the waist. De Morais chose purple, turquoise and mustard yellow fabrics and describes her signature style as
"daring and bold with a sophisticated edge and a hint of playfulness."