César Baldaccini
An Anthology by Jean Nouvel
Linda Chenit, May 19, 2008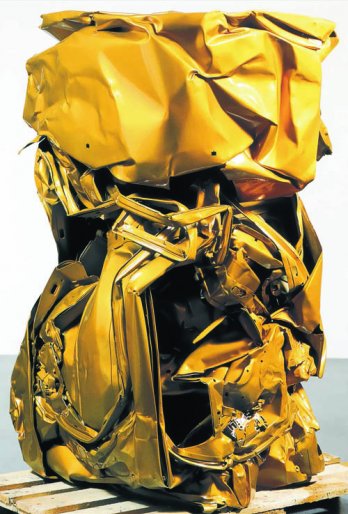 César Baldaccini_Naxos 594, 1998_Fondation Cartier pour l'art contemporain_Stéphanie Buzutil_Aurelio Amendola
Jean Nouvel meet César
César employed the hydraulic press, expanded polyurethane foam and castings of the human body to realize works he called Compressions, Empreintes humaines and Expansions. These techniques led the artist to reduce the intervention of his own hand in the creation of his works, allowing him to seize upon reality in a direct manner. César's formal training led him to question the significance of this new approach, which became the subject of many discussions with his friend Jean Nouvel concerning the nature of a work of art: "Can a work of art that does not show evidence of craftsmanship still be considered art?" César was faced with an inner conflict clearly described by Catherine Millet: "César, as classical as his spirit may be [...], as attached as he is to the importance of craft, has found himself caught in a dilemma; he has discovered that sculpture is not just an art of accurate proportions and beautiful materials to be touched, it may also be an idea." Known for an approach to architecture that favors the immaterial and the minimal, Jean Nouvel has appropriately chosen to place particular emphasis on the conceptual aspects of César's work. In a rigorous exhibition design, he has chosen to focus upon what he considers the most innovative bodies of the artist's oeuvre, not according to chronology, but to genre.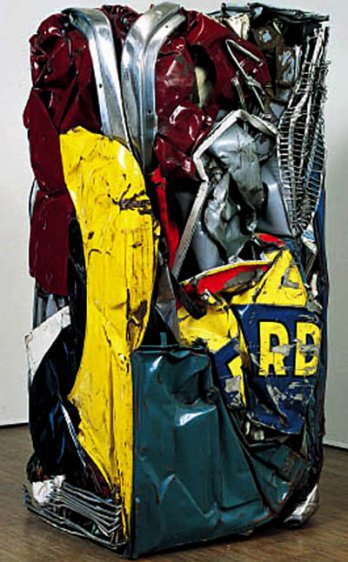 César Baldaccini_Compression Elattine
In the late 1940s, César began welding metal and using wire to make sculptures representing animals and hybrid creatures. At the beginning of the 1950s, he discovered the technique of electric welding which enabled him to assemble pieces of scrap metal - bolts, plates, rods, sheets - in an intuitive manner, depending on the possibilities offered to him by the types of materials he was able to recycle. A selection of seven of these animal sculptures made of iron will surprise the visitor at the entrance of the exhibition. Whether fragile and delicate or angular and aggressive, these works reveal César's virtuosity as a sculptor and his attachment to craftsmanship.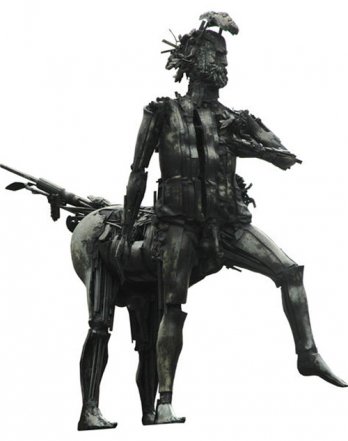 César Baldaccini_The Centaure, 1985
In 1965, César's Parisian art dealer, Claude Bernard, invited him to participate in a collective exhibition entitled La main, de Rodin à Picasso. César first considered casting the hand of a live model, but felt he "needed to add something […] in order to move beyond the boundaries that divide mechanical production from artistic activity." The discovery of a pantograph, an instrument that transfers the contours of a small model to a larger scale, provided him with the opportunity to develop this idea. He decided to realize a cast of his own thumb on a larger scale, breaking with traditional notions of scale. Close to sixteen inches in height, this giant thumb, made of translucent pink plastic, was the first of a variety of casts made from hands, fists or breasts. Presented together in the exhibition on the ground floor level and ranging in height from one and a half inches to nineteen feet, the Empreintes humaines are realized in both unusual and traditional materials, from polyester and cast-iron, to marble and bronze.