MOBIJunior
Kids + Design
Elsa Sarfata, May 5, 2008
Ultimo Grito_Ed. Magis
The VIA Gallery shows the exhibition 'MOBI Junior', a selection of fifty pieces of furniture for children, of French and foreign origin. These products will neighbour with prototypes developed from the imagination of primary school kids in workshops held during the first 'MOBIDécouverte - Les Enfants Designers' sessions, an original teaching initiative by which pupils and teachers from partner schools worked with designers. 'MOBI Junior' is a show for the general public as much as for interior design and life-style professionals, especially those working in the domain of new solutions for children's rooms. For the first time it brings together imaginary works with pieces available on the market and designed in the spirit of the 'MOBI Charter' (see inset), a direct outgrowth of the results of sessions 1 and 2 of the 'MOBIDécouverte - Les Enfants Designers' programme.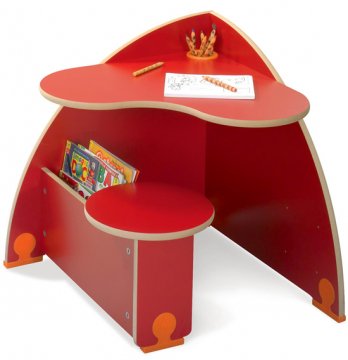 Arnaud Guillorel_Ed. Kidea
The aims of 'MOBI Junior' are a natural follow-on from this ambitious programme, which was launched in 1998 by the IFA (French Furnishing Industries) and is now actively supported by three ministries: National Education; Economy, Finances & Employment; and Culture & Communication. 
Besides presenting a selection of products to the public, the major objective of 'MOBI Junior' is to demonstrate the keen interest shown by French furniture makers in developing new ranges of products for kids. In doing so they are extending the main lines of thought and the creative avenues opened up by 'MOBIDécouverte - Les Enfants Designers'.