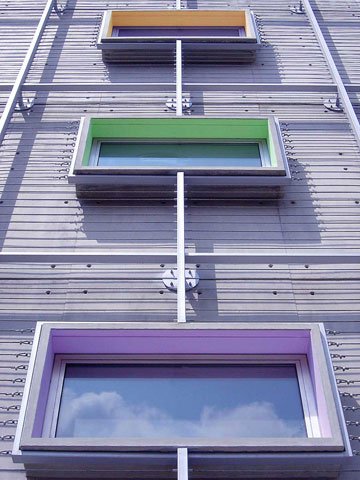 USEK - Kaslik, Lebanon
Student Housing
SE.Arch_Verba5, April 21, 2008
Located in the periphery, at the South-East of the USEK campus, in the real estate zone of Sarba, Keserouan, the degraded and exiguous site on a A relatively reduced and non orthogonal plot of land surrounded with old residential buildings, represented a real difficulty.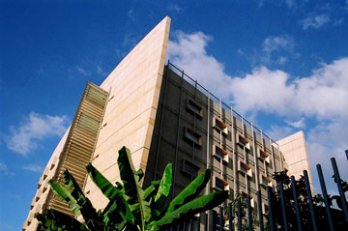 Kaslik_Lebanon_2007_USEK_Student Housing
It's on that difficult site that the owner, the USEK (Université du Saint-Esprit, Kaslik) asked the architects Henry Eid and Samer Eid (from SE.Arch_Samer Eid Architect) to design a residential building for 200 female students of the University, featuring approximatly 9000 m².
The architects have considered the chaotic urban environment of the site as a challenge and confronted it with the elegant modernism of their work, investing to the utmost the potential of a difficult plot of land.
The program
Welcoming and hosting 200 young female students coming from all over Lebanon.
Giving a degraded urban site a new lease of life.
Reconciling the university campus with its neighbourhood, proposing a viable, well-thought and undeniably contemporary alternative.
Shaping the university's identity without compromising its historical and architectural value.
Creating a pleasant environment that is suitable for rest and study.
Interpreting the educative notions of spatial initiation, discovery and experience and raising the residents' awareness to these notions.
Solving the issues of intimacy and community, which prevail on such a project, through setting the framework of what is to be seen, and protecting the residents against what they do not want to bear. In a nutshell, investing the site's negative constraints to support a positive reality is the main issue at stake within this project.
Kaslik_Lebanon_2007_USEK_Student Housing
The functions
The building features ten levels are distributed as following: three underground levels, a ground floor, and six floors.
At the ground floor, public activities are available. The collective space is thus composed and animated by the following functions: welcoming desk, administrative offices, visiting room, lounge, chapel, cafeteria and utilities.
At the floors, the privative space comprises the rooms, distributed over six piled levels.
The elements of vertical circulation battery (stairs and lifts), as well as services (kitchens and technical chambers) are altogether on the eastern aisle of the building.
The floor kitchen is a space where we can meet at meal times in an intimate and warm atmosphere.
Three under-ground levels comprise parking spaces and general utilities.