Edge design + the way things are
Jean Louis Frechin's Thoughts
Annie Gentès + Jean-Paul Robert, January 13, 2020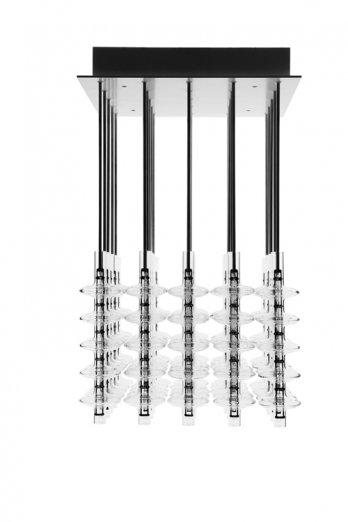 Jean Louis Frechin_Wanetlight M, suspension à variation lumineuse 3D
Like all emerging technologies, digital technologies however sophisticated often strike us as being awkward and not yet mature. From invention to discovery, as Pierre Damien Huygue points, there is a long way to go before achieving the expression of specific aesthetics. At the present time digital science is spreading in two trends. On one hand, digital devices are invading living space: computers, internet box, screens are transforming the organization of work and leisure and their time scales too. On the other hand, digital science is infiltrating all sorts of everyday machines, inaccessible black boxes that make it virtually impossible to understand the functioning principle of an automobile, an oven or kitchen scales. The work of Jean Louis Frechin and Uros Petrevski synthesizes this paradigm, between the proliferation of devices and hyper mediation, and their contrary: immediateness and immersion, that is to say the will to efface works, gears and fittings for the benefit of a heightened experience. In the objects on display here and the many projects which he contributes to or accompanies, Frechin attempts to question this 'all or nothing'.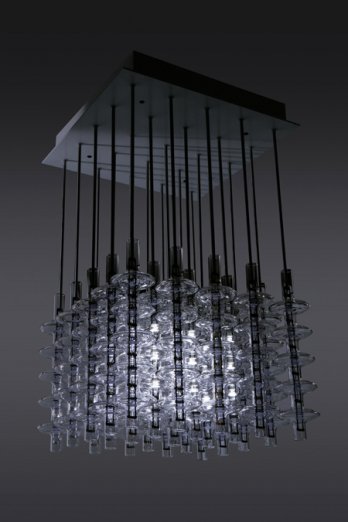 Jean Louis Frechin_Wanetlight M, suspension à variation lumineuse 3D
Rather than a 'trim design', as Armand Hatchuel calls it, what we see is more an 'edge design'. The design work does not focus on variations around a genre; it inscribes itself in the tradition of maturing technologies that these designers are helping to define by their search for specific aesthetics. Frechin dreams of 're-enchanting technologies'. Mirrors from somewhere else, sensitive lamps, talking shelves, none of the objects presented here imposes the industrial presence of computer science in the home space. But nor do digital applications disappear in them. Jean Louis Frechin creates digital objects to be seen and used, to take their place in our everyday world. You can stack books on WaSnake ELA or light a room with Wanetlight M: functions are not called into question. But this is not to say that in these digital pieces creation is reduced to decoration. My hypothesis is that the 'Wa' series adds feeling to our relationships with time and information, and with ourselves and others - relationships that are specific to our modernity. Since I cannot expand on each dimension of these 'discoveries' here, I prefer to open avenues of thought into the mode of being of these objects.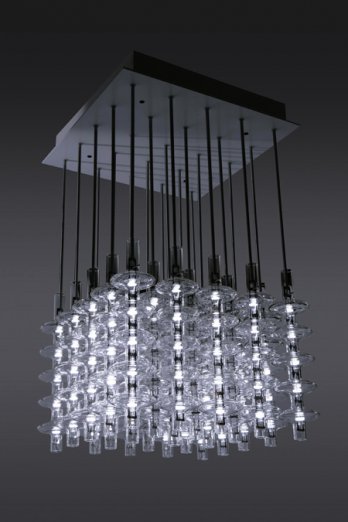 Jean Louis Frechin_Wanetlight M, suspension à variation lumineuse 3D
The aesthetics of a technique become clear when the conditions of its production are not hidden, encased or disguised, but exploited, expressed and able to be appreciated. In this way, Jean Louis Frechin's role consists in questioning the nature of texts, images and digital effects, the degree to which they can be calculated, but also the conditions of their ordinary production. Wapix YJMM strikes me as being a significant example. The family photo still has something to do with institution and memory, but it is no longer a standardized yet rare object sitting on top of the piano. The digital photo actuates the abundance enabled by an inexpensive device.