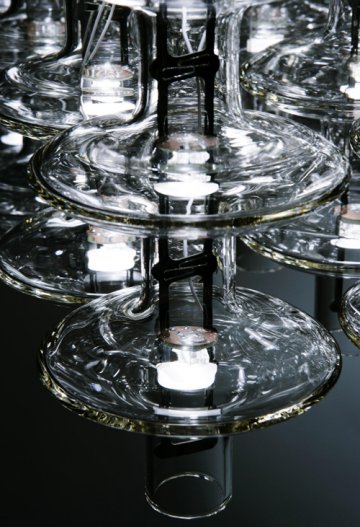 Edge design + the way things are
Jean Louis Frechin's Thoughts
Annie Gentès + Jean-Paul Robert, January 13, 2020
Jean Louis Frechin_Wanetlight M, suspension à variation lumineuse 3D
Special Feature

In the places we live in, objects of everyday comfort cohabit with high performance technological objects that are complex and often intrusive. In time, with the convergence of digital applications, new devices developed by computer science seem destined to replace all the electronic devices that are familiar to us - stereo and TV sets, telephones, radios. In their new formats they will be digital interfaces connected to networks, proposing enhanced ranges of services.
In the world of tomorrow, we are told, the home will be an 'intelligent environment', thanks to these omnipresent networks. The household appliances of the near future will be interconnected to form an '
internet of objects'
. Some forecasters propose specific objects, relatively intrusive, visible and complex; others take an opposite line, concealing machines and networks to fabricate 'wired' spaces in which none of the real workings are visible (pervasive computerization). But neither of these propositions sufficiently integrates human factors to the technology. As such, they run the risk of creating everyday devices that people can neither understand nor control, even though their functions aim at improving the way we live. In view of this, it is important that we propose other scenarios, to embody and represent digital services that are user- friendly. It is also of prime importance that we inscribe digital technologies in the intimate and emotion-fraught contexts of living space. For it is vital that we see
and understand the devices that surround us, all the better to appropriate them, invent other uses, and recognize possible risks.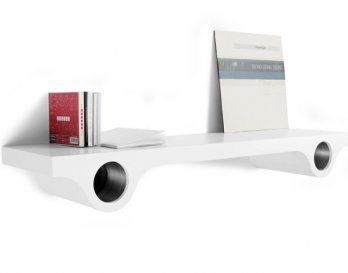 Jean Louis Frechin_Waaz AL, étagère support de musique
Starting out from these issues, the '
Interface(s)'
project proposes a 'hybridization' of new relational technologies with the 'legitimate' objects of living space: furniture, elements for decoration, comfort, lighting and so on. These 'hybrid' objects thus become supports or diffusers of on-line services. They embody the visible and user-friendly interfaces that mediate relations between people in a wide range of practises in the home: computer-enabled pastimes, communication services and comfort-related devices. In their material presence, these 'relational objects' are discreet, soft and emotional, even if they relay all the potential offered by information and communication science. For the designers and makers of services and technologies for habitat, an approach like this constitutes a new paradigm as well as a challenge to innovate.
Jean Louis Frechin_Wanetlight M, suspension à variation lumineuse 3D