Keith Haring
A Summer with Jean-Michel Basquiat
Moca Lyon, March 3, 2008
Keith Haring_San Sebastian, 1984
The exhibition conveys Haring's open, cultivated mind, as manifested in his formally diverse works nourished by his encounters, readings and the places discovered on his travels.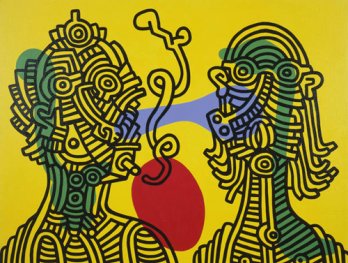 Keith Haring and Julia, 1986
Whether on relatively classical supports (canvas, paper, metal, etc.) or more unexpected ones, such as the BMW, also presented in the exhibition ("Original Keith Haring Object Z1", 1990), beyond the apparent gaiety of the images we are aware of Haring's interest in the big issues of the day: AIDS, drugs, the power of money, etc. For Haring worked at the heart of everyday life.
Keith Haring_Untitled, 1982